These books and materials are examples of adapting materials for use by students with different needs. Only a sample is shown in each category. We have other titles in these categories.
For more details and availability: Search the Library Catalog on the Web
Braille with Tactile Illustrations
BRAILLE
Wright
Bear hunt [braille and large print] / retold by Suzette Wright ; illustrations by Solâene Nâegrerie. Les Doigts Qui Rãevent ; distributed by American Printing House for the Blind, c2017.
Description: "Rich tactile illustrations invite exploration and offer important learning opportunities for young children…. a wonderful romp through tactile landscapes that invite children on a multisensory expedition toward a bear's cave. As the reader journeys across the page, sliding a small token along a path, fingers encounter waving grass, a silken stream, a squishy marsh, trunks of trees, and slippery (You can hear it scrunch!) "snow." Feeling inside the cave reveals a furry face with big eyes, a soft nose-and sharp teeth! Children are sure to identify this quickly, then run for home, where they can open the door, lock it, and hide beneath the bedcovers. In addition to tactually engaging and visually attractive illustrations, the print/braille text offers chances for children to say the repeated phrases and fun words (swish swish!, splish splash!, squish squash!) that are part of the chant's oral tradition. The repetition of positional words-over, under, across, through-supports concept development. Altogether, this is an exceptional book for building a foundation for early literacy and provides the perfect recipe to stir up a desire to read in young emergent and early braille readers, as well as readers of all ages and visual abilities." — APH website. Not intended for children ages 5 and under without adult supervision. (Choking hazard small parts.)
Interactive Books
This type of interactive book has multiple pieces that the student can put in place as the story is told.
JUV
Breaks
A cold and snowy day / by Beth E. Breakstone. Special Editions Press, 1999.
Description: Story book with die-cut pieces, communication board and story board. Includes suggestions for use. Child can participate in reading by placing the velcro pieces on the story board, and returning them to the correct page of the book. For ages three and up.
This type of interactive book has felt board backgrounds with multiple pieces that can be places as the story is told.
JUV
Goldil
Goldilocks and the three bears. Learning Curve, c1997.
Description: FeltKids play system interactive storybook. Multiple pieces can be put in place on different pages, each with a background scene.
Books with Audio Components
This book is an example of one with an audio CD with a recording of the book. The student can read in print or braille while listening to the story.

BRAILLE
Glass
Frozen : read-along storybook and CD / adapted by Calliope Glass ; illustrated by the Disney Storybook Artists. National Braille Press, [2013]
Braille/print book + audio CD
Description: Anna goes on an epic journey to find her sister Elsa, who has used her powers to trap the kingdom of Arendelle in a never-ending winter. Ages 3-6.
Sound Effect Books: This type of book has a set of buttons. Each button plays a different sound effect that goes with the story.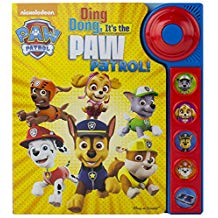 JUV
DingDong
Ding dong, it's the Paw Patrol! Phoenix International publications, Inc., [2018?]
Description: "Go door-to-door with Rocky and the pups to help them recycle…and rescue! 6 buttons play 8 pup-tastic sounds while you read"–Back cover. Sound effect book. Ages 3 to 5 years.
Related and Helpful Materials
These are some examples of assistive devices that can be used to make reading and literacy more accessible to some students. These include reading stands, reading devices, magnifiers, and single message communication devices that can be programmed with a repetitive phrase from a book. There are also simple physical adaptions that anyone can make to books.
EQUIP
LV109
Adapt
Adapt-a-lap book holder. Adapt-A-Lap, Inc., [2002]
Description: The Adapt-A-Lap is a 11.4 in. x 13.5 in. rectangular easel or portable desk that weighs 22 oz. and folds into a unit 1 1/2 inches thick. It has an adjustable 13 inch telescopic leg which extends to approximately 42 inches ; two heavy-duty elastic straps to hold books ; two transparent monofiliment lines to hold pages open ; and a book-support ledge at the bottom of the unit. The bottom front edge is curved to fit against user's legs/torso. There is a grip style handle built into the rectangle.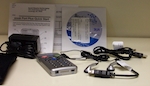 EQUIP
BVI126
Book
Book port plus [realia] : portable electronic reading device. American Printing House for the Blind, [2011]
Description: "Read Digital Talking Books, play digital audio, read computer files, and make quality recordings … Book Port Plus is a latest-generation accessible media player/recorder. Its small size, quality recording, and unique capabilities make it an ideal replacement for cassette player/recorders, earlier Digital Talking Book (DTB) players, or inaccessible commercial digital recorders. Its specialized hardware and software makes Book Port Plus easier to use, more reliable, and more flexible than cell phones or PCs that might perform some of its functions. Quality components and innovative software make Book Port Plus an excellent music player and outstanding recorder. The reading controls let you read a wide variety of books in both audio (human speech) and text (synthetic speech) formats … High-speed USB lets you read NLS DTB cartridges, thumb drives, and USB CD-ROM drives, High capacity SD card support (up to 32GB), Stereo microphone jack, Stereo headphone jack, Built-in speaker, Built-in microphone"–Publisher's website.
System requirements: System requirements: PC with USB connections — CD-ROM drive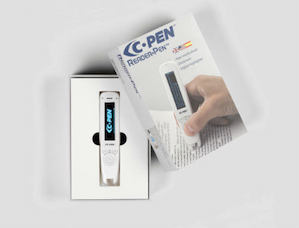 EQUIP
LV131
CPen
C-pen ReaderPen. Scanning Pens Inc., [2016?]
Description: "The C-PEN ReaderPen is a portable scanning pen which reads printed text out loud using an embedded camera, a real-time optical character recognition (OCR) and natural voice text to speech (TTS). C-PEN ReaderPen is designed with the objective to promote active and independent reading and learning."–ReaderPen Quick Start Guide, page 2.
Magnifiers
The SESA Library has a variety of magnifiers. Please contact us for more information.