New Library Materials for September 2021
New Assistive Devices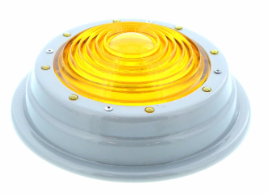 EQUIP
SS109
TailLight
Tail light switch say-it-play-it [device] . Enabling Devices, Inc., 2017.
Description: All it takes is a gentle touch to activate this sense-ational switch that plays a 20-second long message, as it lights up and vibrates. Particularly well-suited for the visually impaired, the Tail light Switch can also be used to turn on toys and devices. Takes 4 AA batteries. Ages 3 years +, or as developmentally appropriate.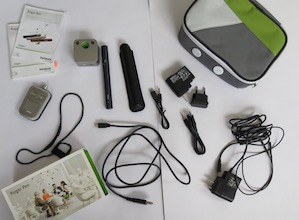 EQUIP
H43
RogerPen
Roger pen [device] / Phonak. Phonak, [2017?]
Description: It transmits the signal automatically through high-quality sound and is able to connect via Bluetooth to cell phones and other audio inputs for listening to TV and multimedia. The Roger Pen transmits the signal to your hearing aids through a receiver. Note: does not include RCA/Cinch adapter for TV or HiFi.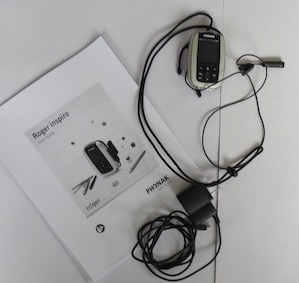 EQUIP
H44
RogerInspiro
Roger Inspiro wireless FM microphone [device] / Phonak. Phonak, [2017?]
Description: Roger inspiro is a wireless microphone that together with Roger receivers gives children high-quality access to the voice of the teacher or parent, especially in noisy conditions. Roger inspiro can be used with a shirt-worn clip microphone (iLapel) or a head-worn microphone (EasyBoom). Roger inspiro can also be used in a network together with other Roger microphones. Ideally suited to teachers .... The teacher uses the microphone, which will connect with a receiver attached to the student's hearing aids.
EQUIP
H45
TVMusic
Phonak TV and music set [device] / Phonak. Phonak, [2017?]
Description: Wirelessly connects hearing aids to television and other entertainment or communication devices.
New Books for the AARC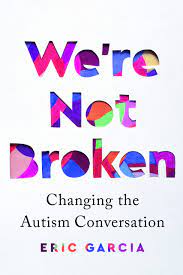 AI Reserve
616.858820092
Garcia
We're not broken : changing the autism conversation / Eric Garcia. Houghton Mifflin Harcourt, 2021.
Description: Garcia began writing about autism because he was frustrated by the media's coverage of the myths that the disorder is caused by vaccines, the narrow portrayals of autistic people as white men working in Silicon Valley. As a Latino, a graduate of the University of North Carolina, and working as a journalist covering politics in Washington D.C., Garcia realized he needed to put into writing what so many autistic people have been saying for years; autism is a part of their identity; they don't need to be fixed. From education to healthcare, he explores how autistic people wrestle with systems that were not built with them in mind. -- adapted from jacket.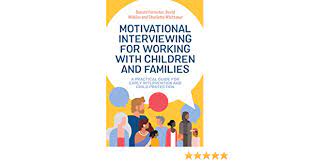 AI Reserve
362.82
Forrester
Motivational interviewing for working with children and families : a practical guide for early intervention and child protection / Donald Forrester, David Wilkins, and Charlotte Whittaker. Jessica Kingsley Publishers, 2021.
Description: Drawing on 20 years of practical experience, research and teaching in the field, this book is a comprehensive guide on the use of Motivational Interviewing (MI) in child protection and family social work. MI increases the likelihood of behavioural change, working with client resistance to encourage a constructive environment when initiating difficult conversations. This makes it particularly effective for child and family social care. Drawing on over 500 studies spanning 11 local authorities, this book uses recordings of real meetings between social workers and families to explain what MI is, how it can be used in child and family social work and how to improve MI skills. An invaluable resource for frontline child protection and family social workers, this book will enable to help you to better understand the needs of the people you support and be more effective in providing the right kind of support.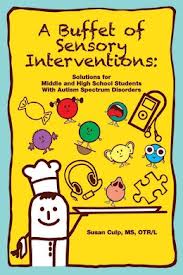 AI Reserve
618.9285882
Culp
A buffet of sensory interventions : solutions for middle and high school students with autism spectrum disorders / Susan Culp. AAPC Publishing, 2011.
Description: "... offers a smorgasbord of sensory-based interventions for use by educators, occupational therapists, and parents. This practical and well-researched tool is unique because it focuses on middle and high school students, whose sensory needs are often overlooked. For this age group, the author emphasizes the importance of fostering independence, self-advocacy and self-regulation as a way to for teens with autism spectrum disorder (ASD) to take ownership of their sensory needs as they transition into adulthood. Using simple terminology and illustrations, the book also: explains sensory basics, describes the sensory systems, discusses sensory challenges experienced by those with ASD, helps develop daily educational interventions through assessment of sensory needs. Parents and educational team members working with teens with ASD will benefit from adding this resource to their library."--Publisher's website.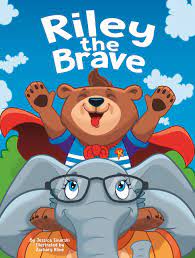 AI Reserve
JUV
Sinarski
Riley the brave : the little cub with big feelings! : help for cubs who have had a tough start in life / Jessica Sinarski ; illustrated by Zachary Kline. Jessica Kingsley Pub., 2021.
Description: "It's about Riley the bear cub, who has mixed up feelings about the past. He used to try to be brave by learning to be tough, to save food when he could find it, to blend into the background so nobody could see him - now he's learning new ways to be brave in new, safer ways that are good for him"-- Provided by publisher. Ages 3-7.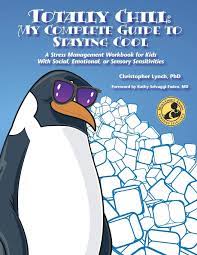 AI Reserve
155.4189042
Lynch
Totally chill, my complete guide to staying cool : a stress management workbook for kids with social, emotional, or sensory sensitivities / Christopher Lynch ; foreword by Kathy Selvaggi-Faden. AAPC Pub., 2021.
Description: Workbook to help students cope with and develop ways to prevent stress and anxiety. Topics include relaxation, flexible thinking, problem solving, getting organized, being healthy, getting along with other kids and using strengths and talents. Ages 8 to 13.
AI Reserve
616.85882
Parikh
Autism activity book for kids : 50 fun exercises to build confidence and improve communication skills / Puja Trivedi Parikh, LCSW, BCBA ; illustrations by Sean Sims. Rockridge Press, 2021.
Description: A book full of interactive activities that help kids with autism spectrum disorders (ASD) to build confidence, communication skills, and thrive. Ages 4-8.
Updated September 14, 2021