New Library Materials for October 2021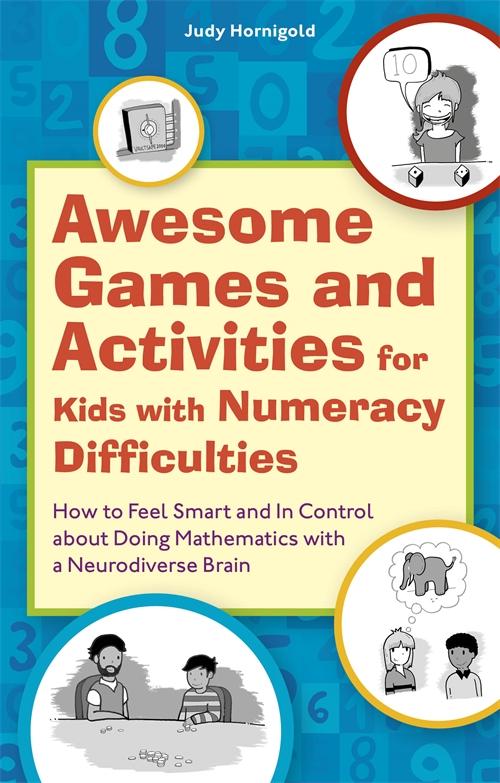 "
AI Reserve
513
Hornigold
Awesome games and activities for kids with numeracy difficulties : how to feel smart and in control about doing mathematics with a neurodiverse brain / Judy Hornigold ; illustrated by Joe Salerno. Jessica Kingsley Publishers, 2021.
Description: "Has maths ever made you feel anxious, confused or like you just don't get it? This is an entertaining collection of mathematical games and curiosities for you to astound your family and friends with. You don't have to follow the chapters in a certain order - you can use this book however you would like, whether you want to get creative, play a game or impress your friends with a clever trick. Designed to spark a child's enthusiasm for maths and make learning simple, this book will help children to grasp the fundamental concepts in maths through exploration and play. This book will appeal to all learning styles and abilities but is particularly relevant for those with specific learning difficulties such as dyscalculia. Building self-esteem and promoting a growth mindset, these activities will help readers to effortlessly develop their number skills, empowering even the least confident learner with a deeper understanding of maths"-- Provided by publisher<br>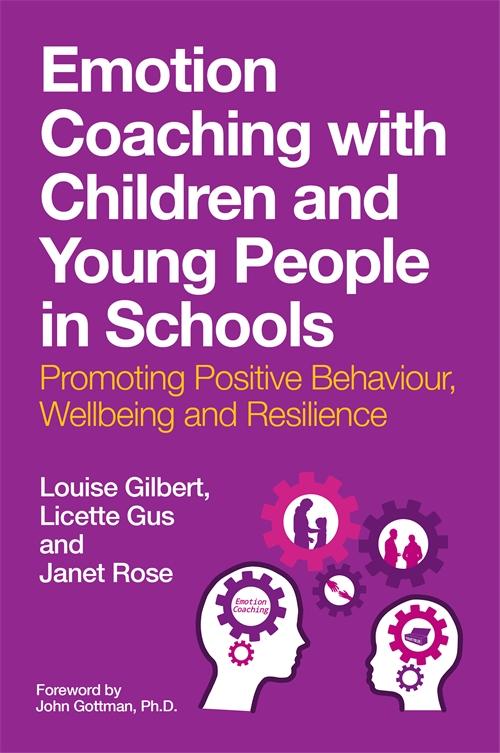 AI Reserve
370.1534
Gilbert
Emotion coaching with children and young people in schools : promoting positive behaviour, wellbeing and resilience / Louise Gilbert, Licette Gus and Janet Rose. Jessica Kingsley Publishers, 2021.Description: "Emotion Coaching (EC) is a communication strategy which supports young people to self-regulate and manage their stress responses. Authors are leading experts in EC and established Emotion Coaching UK(ECUK) in 2015. Originally developed for parents, EC has shown to be highly successful in educational settings too, which is why the authors pioneered the introduction of it into UK (primary and secondary) schools and community settings. Their work has been adopted by many other organisations"-- Provided by publisher.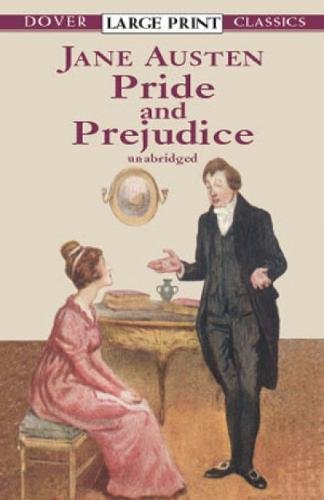 AI Reserve
618.9285882
Lynch
Anxiety management for kids on the Autism spectrum : your guide to preventing meltdowns and unlocking potential / Christopher Lynch. Future Horizons Inc., 2019.
Description: "Anxiety can be overwhelming for children with autism. It doesn't need to be. The anxiety levels commonly found in children with autism affect social skills, memory, learning, and attention span--and often lead to meltdowns. Those who live or work with kids on the spectrum are acutely aware of how disruptive anxiety can be. However, we are rarely provided with clear guidance on how to manage this anxiety. This book bridges that gap. Through his twenty-plus years as a clinical psychologist, Dr. Lynch has devoted his career to relieving distress in kids with autism and related disorders. Lynch identifies five factors that are commonly known to elicit anxiety in children with autism and breaks down how to tackle each topic in a manageable and effective way." -- Provided by publisher.
EQUIPMENT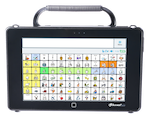 EQUIP
C132
Accent800
Accent 800 [device]. Prentke Romich, 2016.<br>
Description: Model ACN800-20. Smaller and more portable, the Accent 800 offers advanced functionality and user-friendly features. ... offers a choice of vocabulary options featuring Unity with LAMP Words for Life, CoreScanner, and WordCore. Other available vocabulary options include Essence for literate adults and WordPower. The Accent 800 runs both PRC's NuVoice and Empower™ software and offers built in support resources for clinicians and clients. Choice of Unity and LAMP Words for Life, Essence, WordPower or UNIDAD language systems; Battery Charger Included: 18-30 Volt Input; Can also charge from 12 volt car charger (not included); User Manual in Device; Built-in Wi-Fi Capabilities*; Built-in Handle; Built-in Wire Stand; USB Flash Drive; Bluetoothª Phone Interface; Front and rear-facing Camera; Stylus Included; Voices. For information on voices available for your device, please visit store.pr-saltillo.com/voices. * Requires access to local Wi-Fi network. Wi-Fi is used for NuVoice updates. On dedicated device Wi-Fi does not give access to the internet or an internet browser. Weighs 2.5 pounds, 8" diagonal screen, screen resolution 1920 x 1200, battery life 8-10 hours, synthesized speech with digitized speech capacity.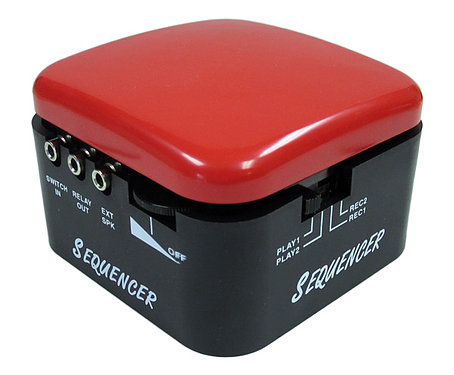 EQUIP
C132
Accent800
Sequencer [device]. Adaptivation, Incorporated, 1999.
Description: The Sequencer is a communication aid that allows you to record and play back messages in sequence. The Sequencer has 3 minutes of record time, 90 seconds per level. Each level is recorded independently. Can also be used as a single- message device! The Sequencer has an external switch jack, an external speaker jack and a relay jack for cause-effect. The Sequencer has excellent sound quality and a long battery life. Includes one 9-volt battery. Dimensions: 3.5 in x 3.5 in x 2.25 in. Weight: 10 oz.
Large Print, Braille and Tactile Books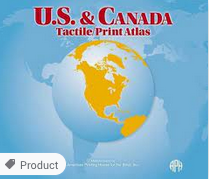 BRAILLE
912
UnitedStates
US. & Canada tactile/print atlas : political, geographic, and thematic maps of the northern North American continent. American Printing House for the Blind, 2013.
Description: The U.S. & Canada Tactile/Print Atlas is a reference volume of thematic maps for use in geography, history, or social studies classes in middle grades or higher, or for general informational use outside the classroom. Each page spread has a combined braille and print key paired with a print map in contrasting colors and a clear tactile overlay. The maps are held in a three-ring binder, so pages can easily be removed as needed. The page size is 11.5 x 11 inches, with some larger maps presented as foldouts. Included Maps: North America ; Canada and the U.S. – Major Cities ; Canada and the U.S. – Land Regions ; Canada and the U.S. – Elevation ; Canada and the U.S. – Climate ; Canada ; Canada – Western Provinces ; Canada – Eastern Provinces ; The Unites States (foldout) ; Northeastern United States ; U.S. – Rivers (foldout) ; U.S. – Economy (foldout) ; U.S. – Northwest (two pages) ; U.S. – Southwest (two pages) ; U.S. – Midwest and Great Plains (two pages) ; U.S. – South (two pages) ; U.S. – Middle Atlantic ; U.S. – Middle Atlantic Coast ; U.S. – Northeast ; U.S. – New England Coast ; U.S. – Alaska ; U.S. – Hawaii.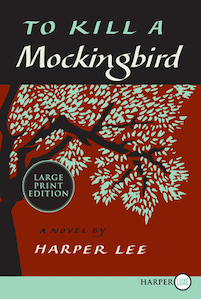 LP
Lee
To kill a mockingbird [large print] : a novel / Harper Lee. HarperLuxe, [2010]
Description: The explosion of racial hate and violence in a small Alabama town is viewed by a young girl whose father defends a black man accused of rape.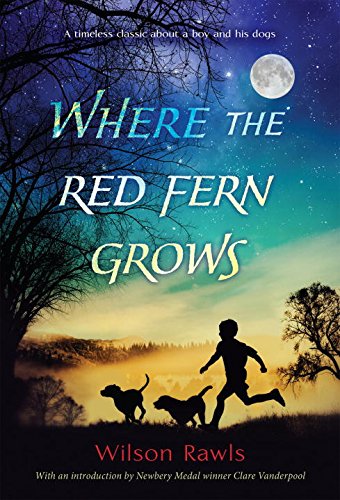 LP
Rawls
Where the red fern grows : the story of two dogs and a boy [large print] / Wilson Rawls. Thorndike Press, a part of Gale, a Cengage Company, 2018.
Description: A young boy living in the Ozarks achieves his heart's desire when he becomes the owner of two redbone hounds and teaches them to be champion hunters.


LP
Raskin
The Westing game [large print] / by Ellen Raskin. ABC-CLIO, 1988, c1978.
Description: The mysterious death of an eccentric millionaire brings together an unlikely assortment of heirs who must uncover the circumstances of his death before they can claim their inheritance.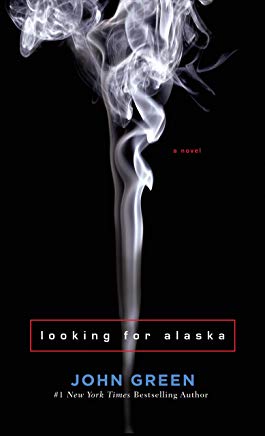 LP
Green
Looking for Alaska [large print] / John Green. Thorndike Press, a part of Gale, Cengage Learning, 2015.
Description: Sixteen-year-old Miles' first year at Culver Creek Preparatory School in Alabama includes good friends and great pranks, but is defined by the search for answers about life and death after a fatal car crash.


LP
Paterson
Bridge to Terabithia [large print] / Katherine Patterson ; illustrated by Donna Diamond. ABC-Clio, 1987, Ã1977.
Description: The life of a ten-year-old boy in rural Virginia expands when he becomes friends with a newcomer who subsequently meets an untimely death trying to reach their hideaway, Terabithia, during a storm.


LP
McCarthy
The road [large print] / Cormac McCarthy. Center Point Pub., 2007.
Description: In a novel set in an indefinite, futuristic, post-apocalyptic world, a father and his young son make their way through the ruins of a devastated American landscape, struggling to survive and preserve the last remnants of their own humanity.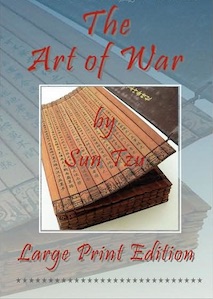 LP
355.02
Tzu
The art of war [large print] / by Sun Tzu ; translated by Lionel Giles ; edited by Shawn Conners. El Paso Norte Press, Ã2009.
Description: The ancient Chinese general Sun Tzu is universally recognized as the greatest military strategist in history, a master of warfare interpretation. This condensed version of his influential classic imparts the knowledge and skills to overcome every adversary in war, at the office, or in everyday life.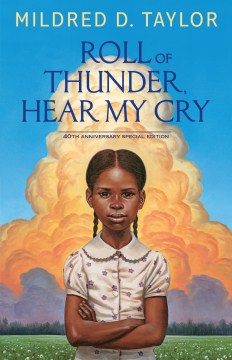 LP
Taylor
Roll of thunder, hear my cry [large print] / by Mildred D. Taylor ; introduction by Jacqueline Woodson. Thorndike Press, 2018.
Description: A black family living in Mississippi during the Depression of the 1930s is faced with prejudice and discrimination which its children do not understand.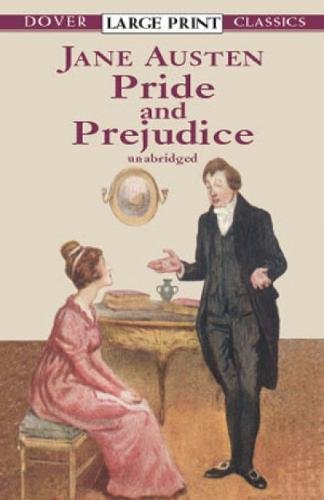 LP
Austen
Pride and Prejudice [large print] / Jane Austen. Dover Publications, 2001.<br>
Description: "A headstrong young woman and her aristocratic suitor must overcome their respective impediments to a happy ending? his pride must be humbled and her prejudice dissolved. The consummate artistry of the author transforms this effervescent tale of a rural romance into a witty, shrewdly observed satire of English country life."--Publisher's website.
BRAILLE
Sorensen
Miracles on Maple Hill [braille] / Virginia Sorensen. Harcourt Publishing Company, An Odyssey/Young Classic, 1956, 2016. Produced in braille by TBE Sisterhood, Braille Bindery Volunteers.
Description: 4 volumes of braille. As a newly returned POW, a father experiences difficulty in adjusting to his old way of life. When the family moves into a country farmhouse, his ten-year-old daughter sees magic in the changing seasons, and eventually in the changes in her father.
Updated October 27, 2021