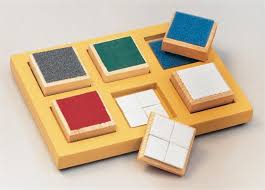 EQUIP

G139

Textured

Textured matching blocks [game]. American Printing House for the Blind, Inc., [198-?]

Description: Textured blocks fit into the appropriate spaces in the board helping young children learn tactual matching of textures.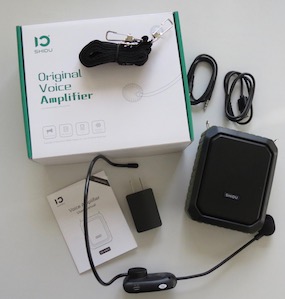 EQUIP

H42

Original

Original voice amplifier [device] : loud speaker/MP3 player/AUX. SH1DU, [2020]

Description: Portable, waterproof bluetooth amplifier. Specifications: output power (18W) ; battery capacity 3.7V, 4400mAh ; charging voltage 5V, 1A ; charging time 3-5 hours ; working time 10-12 hours (depending on volume). Adjustable microphone headset. Can be used outdoors ; by teachers, coaches, fitness instructors and others ; for singing, presentations and more. Can be used as a bluetooth speaker and a power bank for emergency charging. Supports recording, loop playback, Aux input, micro SD card and U disk.

EQUIP

LV132

VideoMag

Video mag HD [device] / American Printing House for the Blind, Freedom Scientific.

Description: "… provides crystal-clear, full-color images by magnifying whatever appears under its auto-focus HD camera by 2x to 13x. Ideal for viewing labels, price tags, receipts and more…. features an ergonomic, fold-away handle which allows the user to hold the magnifier close to an object, press the magnification buttons for continuous zoom, and then freeze the image on the screen. The unit also has a reading line and reading mask feature that can be used to quickly locate and maintain one's place while viewing an image or reading text on the LCD screen. … can save and store approximately 80 images that can easily be copied to a computer through a simple USB connection. The unit also has a reading line and reading mask feature that can be used to quickly locate and maintain one's place while viewing an image or reading text on the LCD screen."–APH website.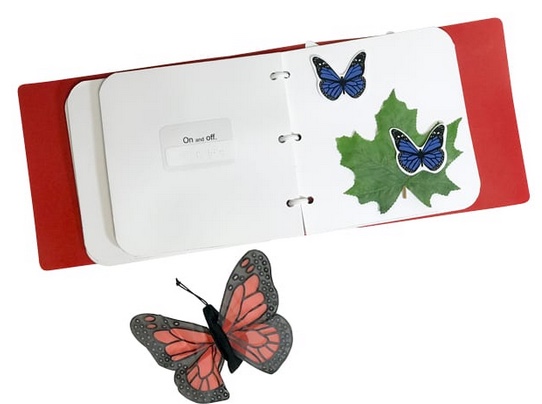 BRAILLE

372.6

Clarke

Laptime and lullabies [kit] : sharing the joys of literacy with your infant or toddler who is blind or visually impaired /Kay L. Clarke. American Printing House for the Blind, Inc., 2018.

Description: "For parents and teachers of children up to three years of age; use Butterflies and Where's Little Fuzzy? story books (both with tactile, braille, and print components) to facilitate the skills necessary to build an understanding of language before beginning to read the written word, including: evaluating one's environment; understanding reciprocal communication; developing listening skills; and more. … With a little "thinking out of the book," you and your little one can discover literacy activities that are both enjoyable and meaningful."
BRAILLE

Gutman

Ms Sue has no clue! [braille] / Dan Gutman. Produced at National Braille Press, [2020?].

Description: "Alexia's mom, Ms. Sue, leads the kids of Ella Mentry School in the weirdest fundraiser in the history of the world!"– Provided by publisher.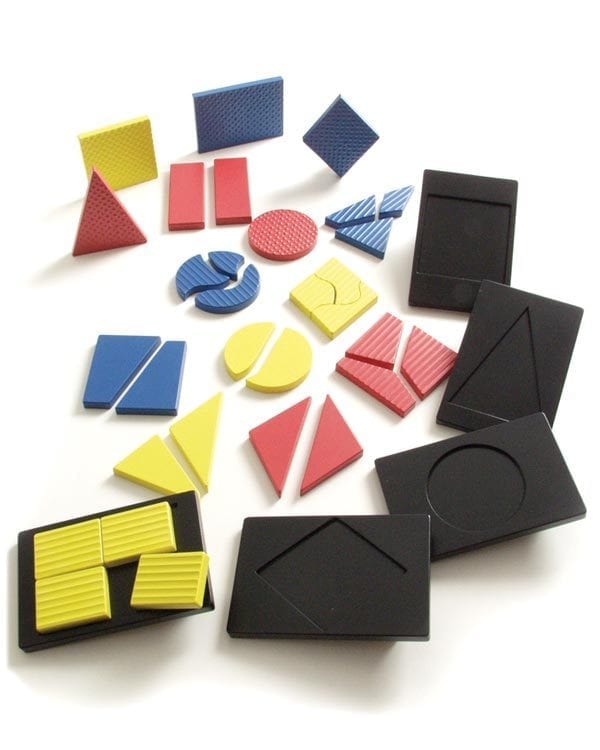 EQUIP

G140

Puzzle

Puzzle form-board kit. American Printing House for the Blind, 1970?

Description: The shapes (circle, square, triangle, rectangle, diamond) are colour and textured coded. Each shape has 1 whole, 2 part and 3 part sections (rectangle is divided into 4 parts). Designed for use by pre-school or primary level children learning basic concepts of form, shape, texture, colour, size and manipulation.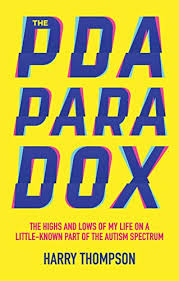 618.928581

Thompson

The PDA paradox : the highs and lows of my life on a little-known part of the autism spectrum / Harry Thompson ; foreword by Felicity Evans. J. Kingsley, 2019.

Description: "Diagnosed with Pathological Demand Avoidance (PDA) in his teenage years, Harry Thompson looks back with wit and humour at the ups and downs of family and romantic relationships, school, work and mental health, as well as his teenage struggle with drugs and alcohol. By embracing neurodiversity and emphasising that autistic people are not flawed human beings, Thompson demonstrates that some merely need to take the "scenic route" in order to flourish and reach their full potential. The memoir brings to life Harry's past experiences and feelings, from his torrid time at school to the peaceful and meaningful moments when he is alone with a book, writing or creating YouTube videos. Eloquent and insightful … and I'm Harry! Unqualified will bring readers to shock, laughter and tears through its overwhelming honesty. It is a turbulent memoir, but it ends with hope and a positive outlook to the future"– Provided by publisher.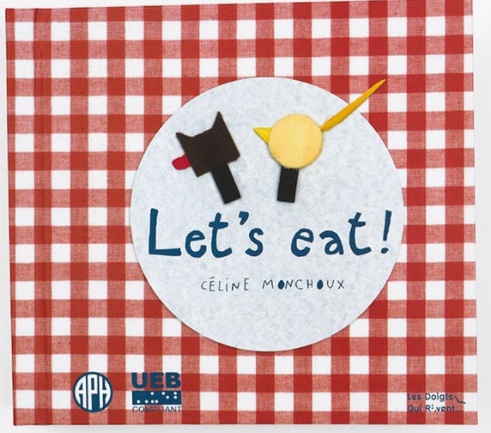 BRAILLE

Monchoux

Let's eat! [braille] / Celine Monchoux ; [graphic and tactile adaptation, Solene Negrerie, Les Doigts Qui Revent, France ; translation, Suzette Frere Wright].

Description: Build a foundation for numeracy and literacy skills with this engaging tactile storybook, as children use the finger puppets, Little Chick and Little Wolf, to gobble up the variety of tactile foods on their plates! Reading aloud can be one of the most powerful contributions adults make to a young child's development of literacy. Sharing books in an interactive manner, and talking about the text and illustrations, has been demonstrated to build vocabulary and strengthen oral language skills. Not least important, reading aloud from a book enjoyed by both child and adult connects reading to pleasure. For emergent print readers, pictures act as an important bridge helping the child take a more active role in reading, as a listener and as a reader. Tactile illustrations in Let's Eat are designed to serve a similar purpose. In addition, they offer critically important opportunities to build exploratory skills, tactile discrimination skills, and encounter spatial relationships.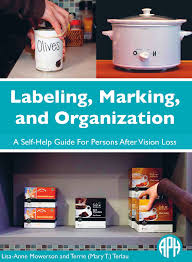 648.5

Mowerson

Labeling, marking, and organization : a self-help guide for persons after vision loss / Lisa-Anne Mowerson and Terrie (Mary T.) Terlau. American Printing House for the Blind, 2014.

Description: This book with accompanying recordings of the text on CDs teaches you to organize with and without labeling, and to create customized marking systems. Vision rehabilitation therapists can use the book as homework for their consumers — and consumers can use this book on their own. If you are tired of opening apricots instead of tomatoes, wearing your navy shirt with black slacks, or floundering through files when trying to find your utility bill, then Labeling, Marking, and Organization may be the book you need! … it contains practice activities in to help you get started on labeling tasks. "Explorers" (fictitious persons who lost vision) are working through the book along with you, to keep you motivated and encouraged! Helps You: identify items without labeling or marking them ; clear out clutter ; organize by using placement systems and organizers ; identify items by using your non-visual senses and your remaining vision ; select the label or mark that will fit the task ; stay in charge of your labeling system. Learn to label: food (frozen, canned, boxed) ; cleaning supplies ; paperwork, credit cards, keys ; medications, personal grooming products ; clothing and accessories ; remotes, DVDs, CDs, TVs, stereos ; hobbies, games, crafts.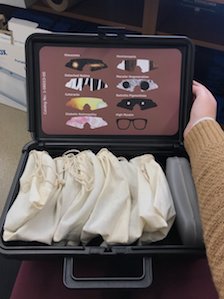 EQUIP

LV133

SeeLikeMe

See like me [kit] : visual simulation filters. American Printing House for the Blind, 2020.

Description: "With the look and feel of standard safety glasses, these Simulators have also been fit with inserts to mimic common eye conditions, and are designed to present a version of each specific eye condition listed below. This product is different from others on the market because they show the color changes that are often present in certain eye conditions, as well as differences in vision that an occur between the two eyes. … the See Like Me Low Vision Simulators cannot mimic any person's exact vision; instead, they give a general sense of what it is like to function with low vision that stems from a particular condition."–APH website. For disability awareness. Contents: Cataract — glaucoma — diabetic retinopathy — macular degeneration — retinitis pigmentosa — detached retina — hemianopsia — high degree myopia.
Updated October 27, 2020