New Library Materials for January 2020
Autism Spectrum Disorders | New Materials for the Deafblind Program | Braille | Other Books | Equipment
New Materials on Autism Spectrum Disorders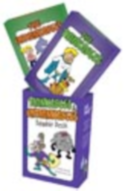 AI Reserve
371.94
Thinkables
DualDeck
Thinkables & Unthinkables double deck [card games]. Card games to promote superflexible social thinking. Social Thinking Publishing, c2013.
Description: "The Thinkables & Unthinkables Double Deck is the superflexible teaching tool … to use with individuals who are learning about or have already been introduced to Superflex, the 14 original Unthinkables, and the newer characters, the Thinkables (first mentioned in … Social Town Citizens Discover 82 New Unthinkables for Superflex to Outsmart). You take the lead in using the cards — they're a blank canvas of possibilities! Create games such as "Go Fish" with the cards ; use the Thinkables cards to say "good job" when a child or student has mostly put an Unthinkable to rest ; use an Unthinkable card as a visual tool to remind a student to use his/her strategies when one of those clever, sneaky characters is invading the student's brain ; pick an Unthinkable or Thinkable and play "I Spy…" where students use their Social Detective skills to look for that character showing up in themselves or others in the group, the classroom, or the school. The possibilities are endless, limited only by your imagination and your own superflexible thinking!"–Social Thinking website.
Ages 7-10+. (website) Ages 8-13. (container)
New Materials for the Deafblind Program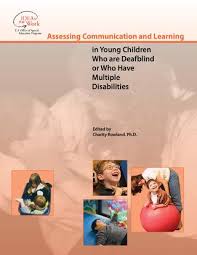 DB
616.855
Assessing
Assessing communication and learning in young children who are deafblind or who have multiple disabilities / edited by Charity Rowland. Design to Learn Projects, Oregon Health and Science University, c2009.
Description: "This guide is intended for all professionals who are responsible for assessing and developing interventions for young children who are deafblind"–Page 3.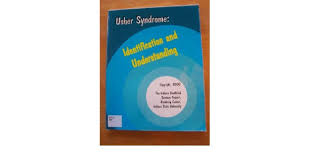 DB
617.886
Poff
Usher syndrome : identification and understanding / Lisa E. Poff & Karen S. Goehl ; edited by Linda Lechner, Nancy Mayfield. Indiana Deafblind Service Project, Blumberg Center, Indiana State University, c2000.
Description: … provides basic information about Usher Syndrome–what it is, how to recognize it, and simple tests to determine whether a person should be referred for medical testing. The booklet includes an overview of screening tests and sample forms. It also includes factors to consider in the classroom such as lighting, seating arrangements, print size, and color.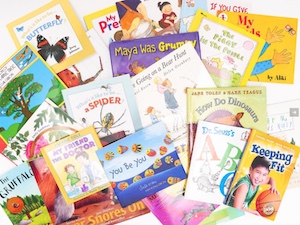 BRAILLE
371.412
BPO
PreK
StdtKit
Building on patterns : the primary braille literacy program : pre-kindergarten : student kit : print kit / Eleanor Pester, project director.Building on patterns : the primary braille literacy program : pre-kindergarten : student kit : print kit / Eleanor Pester, project director. 2nd edition. American Printing House for the Blind, 2018.
Description: Building on Patterns (BOP) Prekindergarten is the first level of the second edition of BOP. BOP is a systematic, comprehensive, and balanced literacy program designed to teach young children (through second grade) with visual impairments to read and write using braille. BOP Prekindergarten curriculum reflects best practices in braille literacy instruction, with lessons designed to build literacy skills related to listening, speaking, reading, and writing in preparation for kindergarten. It may be used as a stand-alone program, or can also supplement regular preschool curricula. APH recommends that the print children's books and their braille transcriptions in the Student Kit stay with the student after using them during lessons to help them begin (or supplement) their own library. The print and braille books can also be sent home so family members can have their own interactive reading sessions with their child. APH also highly recommends teachers use the electronic versions of the parent letters in order to tailor them to each student's family. Note: the font for the braille with shadow dots used in the letters is available to download as well. Includes 28 instructional lessons, each paired with a children's book and a tactile storybook that supports lesson concepts through activities that involve tracking, simple reading, and understanding tactile graphics. Each lessons begins with learning objectives, and then includes sections on the following: speaking and listening: interactive read-alouds using high-quality children's literature with an emphasis on oral vocabulary and listening comprehension ; knowledge and concept development: days of the week, weather, shapes, and other concepts relevant to the preschool curriculum ; phonological/phonemic awareness: environmental sounds, rhyming words, syllables, and initial and ending sounds ; reading: tracking skills, letter and number recognition, phonics, and independent reading of simple continuous text (tactile storybooks) ; writing: practice exercises, modeled/interactive (shared) writing, and name writing ; variety of tactile graphics ; enrichment activities incorporating poetry, arts and crafts, music, and movement.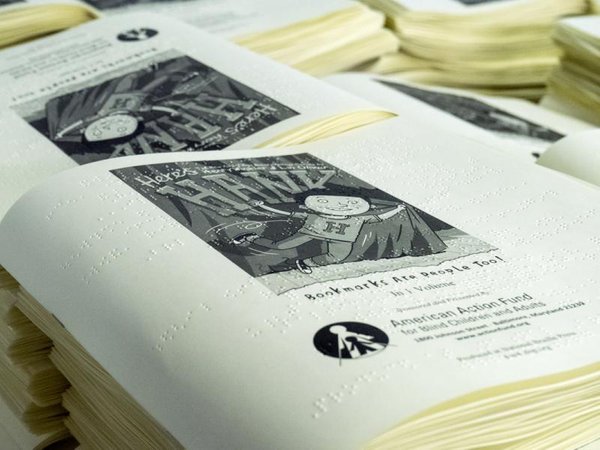 BRAILLE
Winkler
Everybody is somebody [braille] / Henry Winkler & Lin Oliver. Sponsored and presented by American Action Fund for Blind Children and Adults ; [Boston, MA] : Produced at National Braille Press, [2019?]
Description: When a well-known author visits their school, Hank and his two best friends get the chance to be her guide for the day and introduce her at an assembly, but the situation forces Hank to find creative ways to hide his struggles with reading.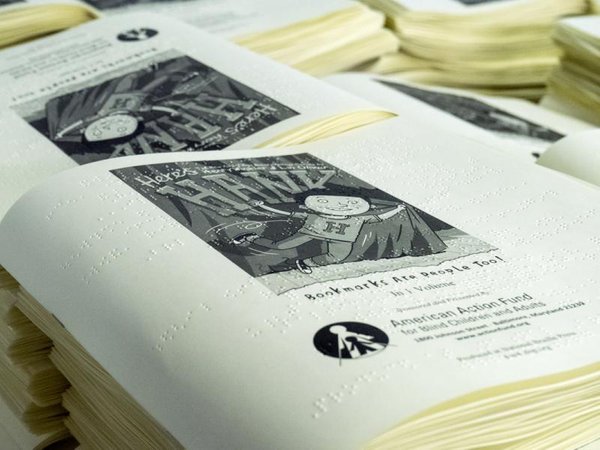 BRAILLE
Gutman
Miss Child has gone wild! [braille] / Dan Gutman. Sponsored and presented by American Action Fund for Blind Children and Adults ; [Boston, MA] : Produced at National Braille Press, [2019?]
Description: A.J. and his fellow third-graders from Ella Mentry School, including new student Alexia, go on a field trip to the zoo, where they meet a very strange zookeeper.


025.82
Kahn
Disaster response and planning for libraries / Miriam B. Kahn. American Library Association, 1998.
Description: Provides the tools librarians need to prepare for disasters that can ruin their holdings of books, journals, audio and videotapes, and CDs, describing the steps to planning for and implementing a workable disaster response plan.


362.4084
Traditional
Traditional Alaska transition skills / Rain Van Den Berg and Robin Chaney ; UAA Center for Human Development. University of Alaska Anchorage, Center for Human Development, 2019.
Description: "The Governor's Council on Disabilities and Special Education (GCDSE), through the initiative, planning, and guidance of its Rural Transitions Workgroup; and with the help of its DD Act partner, the UAA Center for Human Development (CHD) has published this Introduction and first two units of Rural and Traditional Alaska Transitions Curriculum. These first two units, "Set-Netting" and "Cold Water Safety," were written by Rain Van Den Berg and Robyn Chaney, with funding by the Alaska Mental Health Trust Authority and the Alaska Department of Education and Early Development. More units, by other authors and based in other regions are forthcoming."–Dillingham School District website.
Available for download here: https://www.dlgsd.org/uploads/7/7/8/0/77807742/traditional_alaskan_transition_skills_curriculum_2019_final.pdf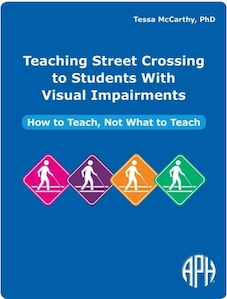 362.41
McCarthy
Teaching street crossing to students with visual impairments : how to teach, not what to teach / Tessa McCarthy, PhD. American Printing House for the Blind, Inc., c2016.
Contents: Project staff — Acknowledgements — About this manual — Chapter One — Skills and pedagogy : what is the difference? — Chapter Two – When to begin teaching street crossing — Chapter Three — Developing a "game plan" for teaching street crossing — Chapter Four — Planning how to teach, not what to teach — Conclusion — Making the best decisions for your student — References — Appendix A: additional resources.
Description: Includes vignettes of teaching techniques.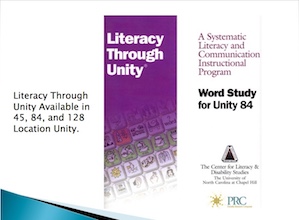 MD Reserve
372.61
Unity 84
Literacy through Unity : a systematic literacy and communication instructional program : word study for Unity 84. The Center for Literacy & Disability Studies, [2006?]
Description: Contains 50 lessons for teaching literacy using Unity. LAMPS Words for life.

EQUIP
SW145
DualSwitch
Dual switch latch & timer / Ablenet, Inc. AbleNet, Inc., [20–?]
Description: "… add modes of control to any switch accessible toy or appliance. Use with any pre-adapted device, or use … battery device adapter to create your own adapted toy or appliance. This unit allows two people to activate their own devices simultaneously."–publisher website. Takes 1 9-volt battery.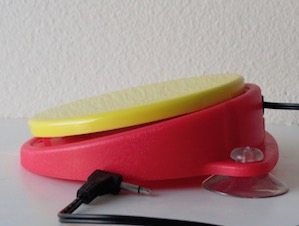 EQUIP
SW146
Adaptable
Adaptable tactile switch. American Printing House for the Blind, [20–?]
Description: Switch has a red base and yellow top, is set at an angle, and suction cup feet. Can be used with toys and other devices.
January 23, 2020