For more information: Search the Library Catalog on the Web
Other lists of new materials are here.
New Library Materials for January 2021
New Large Print Materials from the AKCAM Grant

LP
George
My side of the mountain
/ written and illustrated by Jean Craighead George. Thorndike Press, 2005.
Description: A young boy relates his adventures during the year he spends living alone in the Catskill Mountains including his struggle for survival, his dependence on nature, his animal friends, and his ultimate realization that he needs human companionship..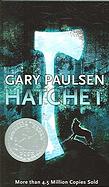 LP
George
Hatchet
/ Gary Paulsen. Thorndike Press, 2018.
Description: After a plane crash, thirteen-year-old Brian spends fifty-four days in the Canadian wilderness, learning to survive with only the aid of a hatchet given him by his mother, and learning also to survive his parents' divorce.
LP
Hinton
The outsiders
/ S.E. Hinton. Thorndike Press, 2005.
Description: Three brothers struggle to stay together after their parents' death, as they search for an identity among the conflicting values of their adolescent society in which they find themselves "outsiders."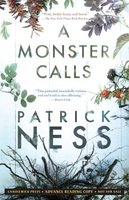 LP
Ness
A monster calls
/ Patrick Ness ; inspired by an idea from Siobhan Dowd. Thorndike Press, 2020.
Description: "At seven minutes past midnight, thirteen-year-old Conor wakes to find a monster outside his bedroom window. But it isn't the monster Conor's been expecting — he's been expecting the one from his nightmare, the nightmare he's had nearly every night since his mother started her treatments. The monster in his backyard is different. It's ancient. And wild. And it wants something from Conor. Something terrible and dangerous. It wants the truth. From the final idea of award-winning author Siobhan Dowd — whose premature death from cancer prevented her from writing it herself –Patrick Ness has spun a haunting and darkly funny novel of mischief, loss, and monsters both real and imagined." — Provided by publisher.

LP
Lowry
The giver
/ Lois Lowry. Thorndike Press, 1993.
Description: Given his lifetime assignment at the Ceremony of Twelve, Jonas becomes the receiver of memories shared by only one other in his community and discovers the terrible truth about the society in which he lives.

LP
Babbitt
Tuck everlasting
/ Natalie Babbitt. Thorndike Press, 2003.
Description: The Tuck family is confronted with an agonizing situation when they discover that a ten-year-old girl and a malicious stranger now share their secret about a spring whose water prevents one from ever growing older.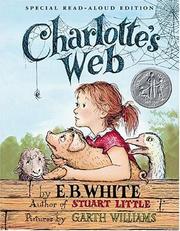 LP
White
Charlotte's web
/ E.B. White ; pictures by Garth Williams. HarperCollins Publishers, [2006?].
Description: Wilbur the pig is desolate when he discovers that he is destined to be the farmer's Christmas dinner until his spider friend, Charlotte, decides to help him.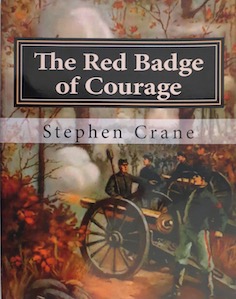 LP
Crane
The red badge of courage
/ Stephen Crane. [CreateSpace Independent Publishing Platform], 2013.
Description: Taking place during the American Civil War, the story is about a young private of the Union Army, Henry Fleming, who flees from the field of battle. Overcome with shame, he longs for a wound, a "red badge of courage," to counteract his cowardice.

LP
Tolkien
The hobbit, or, There and back again
/ J.R.R. Tolkien. Thorndike Press, 2003.
Description: Bilbo Baggins, a respectable, well-to-do hobbit, lives comfortably in his hobbit-hole until the day the wandering wizard Gandalf chooses him to take part in an adventure from which he may never return.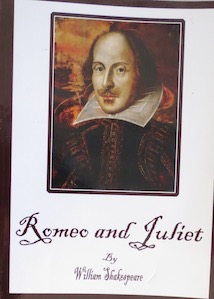 LP
822.33
Shakespeare
Romeo and Juliet
/ by William Shakespeare. Loki's Publishing, [2016].
Description: An age-old vendetta between two powerful families erupts into bloodshed. A group of masked Montagues risk further conflict by gatecrashing a Capulet party. A young lovesick Romeo Montague falls instantly in love with Juliet Capulet, who is due to marry her father's choice, the County Paris.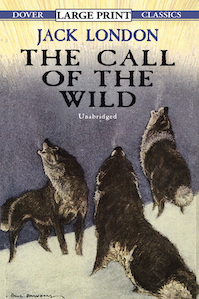 LP
London
The call of the wild
/ Jack London. Dover, 2001.
Description: The adventures of an unusual dog, part St. Bernard, part Scotch shepherd, forcibly taken to the Klondike gold fields where he eventually becomes the leader of a wolf pack.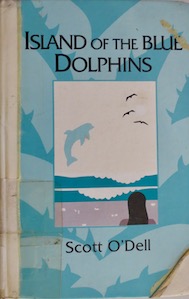 LP
ODell
Island of the Blue Dolphins
/ Scott O'Dell. ABC-Clio, 1987.
Description: Records the courage and self-reliance of an Indian girl who lived alone for eighteen years on an isolated island off the California coast.

LP
Lowry
Number the stars
/ Lois Lowry. Thorndike Press, 2018.
Description: In 1943, during the German occupation of Denmark, ten-year-old Annemarie learns how to be brave and courageous when she helps shelter her Jewish friend from the Nazis.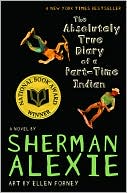 LP
Alexie
The absolutely true diary of a part-time Indian
/ by Sherman Alexie ; art by Ellen Forney. Thorndike Press, 2008.
Description: Budding cartoonist Junior leaves his troubled school on the Spokane Indian Reservation to attend an all-white farm town school where the only other Indian is the school mascot.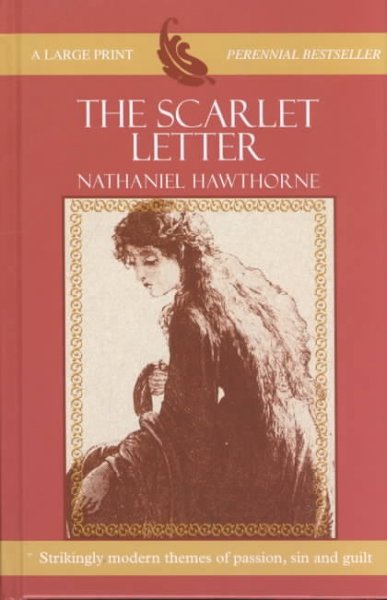 LP
Hawthorne
The scarlet letter
/ Nathaniel Hawthorne. Thorndike Press, 2002.
Description: This is a story of love, sin, guilt, and redemption played out against the stark background of Puritan New England.

LP
Collins
Mockingjay
/ Suzanne Collins. Gale Cengage Learning, [2012]
Description: The Capitol is angry that Katniss Everdeen has survived the Hunger Games twice, stirring unrest by having defied the rules, and President Snow has made it clear that she, her family and friends, and the people of District 12 may all be held accountable. Hunger Games ; bk. 3

LP
Collins
Catching fire
/ Suzanne Collins. Gale Cengage Learning, [2012]
Description: By winning the annual Hunger Games, District 12 tributes Katniss Everdeen and Peeta Mellark have secured a life of safety and plenty for themselves and their families, but because they won by defying the rules, they unwittingly become the faces of an impending rebellion. Hunger Games ; bk. 2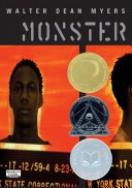 LP
Myers
Monster
/ Walter Dean Myers. Thorndike Press, 2004.
Description: While on trial as an accomplice to a murder, sixteen-year-old Steve Harmon records his experiences in prison and in the courtroom in the form of a film script as he tries to come to terms with the course his life has taken.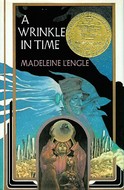 LP
LEngle
A wrinkle in time
/ Madeleine L'Engle. Thorndike Press, 2017.
Description: Thirteen-year-old Meg Murry, her little brother Charles Wallace, and their friend Calvin are guided by unearthly strangers as they go on a journey through space and time to search for Meg's and Charles' scientist father who disappeared while experimenting with a new form of space travel.
Other New Materials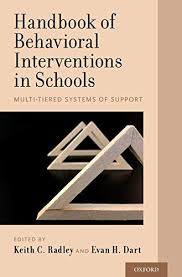 370.1528
Handbook
Handbook of behavioral interventions in schools : multi-tiered systems of support
/ edited by Keith C. Radley and Evan H. Dart. Oxford University Press, [2019]
Description: Tasked chiefly with providing effective instruction, classroom teachers must also manage student behavior. Prevalence of student problem behavior is a strong indicator of failing schools, and has been linked to reduced academic achievement, truancy, bullying, and loss of teacher time. As such demand is on the rise for intervention programs that may effectively reduce levels of problem behavior in schools. … a comprehensive collection of evidence-based strategies for addressing student behavior in the classroom and other school settings. Experts in the fields of special education and school psychology provide practical guidance on over twenty behavior interventions that can be used to promote appropriate student behavior. Framed within a multi-tiered system of support, a framework representing one of the predominant service delivery models in schools, interventions are categorized as Tier I, Tier II, or Tier III, and chapters provide insight into how students might be placed in and moved through respective levels of service intensity. Each chapter details a specific intervention strategy, and includes reproducible materials to facilitate use of the intervention, case studies, and further reading for school-based practitioners. Introductory chapters on behavior analysis, multi-tiered systems of support, and law and ethics place the practical guides in a context that is relevant for school-based practice. Walking readers through the entire process of assessment of problem behaviors to intervention and progress monitoring, Handbook of Behavioral Interventions in Schools is an invaluable resource for special education teachers, school psychologists, and trainees in these fields. –From publisher's description.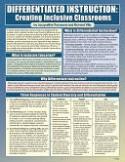 371.9046
Different
Differentiated instruction : creating inclusive classrooms
/ by Jacqueline Thousand and Richard Villa. National Professional Resources, Inc., [2018]
Description: n today's diverse classrooms, teachers need to be equipped with the necessary tools to address the wide range of learning differences among all students, including students who are learning English along with the curriculum, students with identified disabilities, and students impacted by poverty and homelessness. This quick-reference laminate guide by Jacqueline Thousand and Richard Villa provides a framework, examples, as well as technology and print resources to help classroom teachers differentiate their instruction using Retrofit and Universal Design for Learning (UDL) approaches and Multiple Intelligences theory. It also provides actions administrators can take to promote inclusive schooling and differentiated instruction.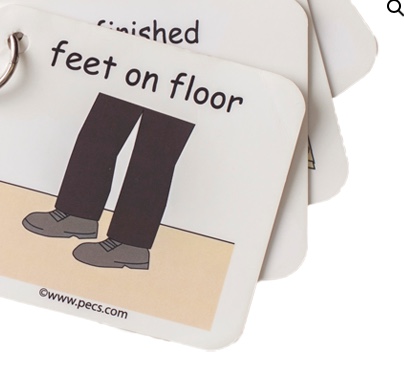 371.94
ShowGo
Show and Go school pack
/ Pyramid Educational Consultants. Pyramid Educational Products, [201-?]
Description: "… a set of 10 of the most commonly used directions in a classroom setting. The directions are from our Pics for PECS™ collection and are printed on virtually indestructible plastic and joined on a ring. We include one blank card for you to add a direction or to store tokens."–publisher's website.
AI Reserve
371.94
Special needs tool box – card set
/ Sex Ed Mart. Sex Ed Mart, [201-?]
Description: These cards were designed to teach students with social impairments about behaviors, staying safe, body language, and self-care. There are 16 card sets, each cataloged separately, in five educational themes.:
Contents: These Sequencing Card cover the following topics and answer questions such as:
1) Private and Public: Private and Public, Appropriate Self Touch Sequencing Cards for Boys and Girls. 2) Boundaries & Safety: Friendly versus Friend Cards, Staying Safe on the Internet. 3) Dating & Consent: Rules for Online Dating Cards, Dating Cards (fun ideas for dates), Steps to Asking Someone Out Cards, Rules for Consent Cards, Grown Up Rules. 4) Body Language and Flirting: Universal Expressions: Faces and Bodies, Reading Body Language: Flirting Cards. 5) How-To Sequencing Cards: Menstrual Hygiene, How To Use a Condom, Masturbation Sequencing Cards for Males and Females.
Updated January 20, 2021
New Library Materials for December 2020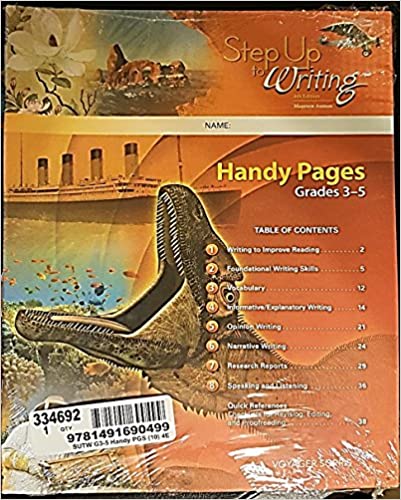 372.62
Auman
Grades 3-5
Step up to writing, grades 3-5
/ Maureen Auman. 4th ed. Voyager Sopris Learning, c2015.
Description: … offers educators explicit, systematic instruction for every aspect of writing. This flexible, strategy-based program has been completely revised and updated to meet the writing standards students need to be college and career ready. … provides students with rigorous and repeated practice in: foundational writing skills, including crafting effective sentences and paragraphs and skillful use of standard English ; the writing process—prewrite, plan, draft, revise, edit, write final copy, proofread, and share/publish ; informative/explanatory, opinion, and narrative writing ; research skills to build and present knowledge ; strategic use of technology to locate information and publish work ; collaborative writing skills ; vocabulary, grammar, and conventions. All new formal assessments challenge students to write in response to grade-level-appropriate texts and provide instructors with meaningful data that can help guide instruction. The easy-to-use data tracking and analysis tools save teachers time as they quickly identify areas of strength and weakness for individual students and entire classes.
December 16, 2020
New Library Materials for November 2020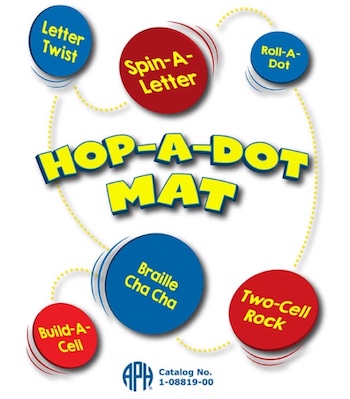 EQUIP
BR60
HopADot
Hop-a-dot mat [kit]
/ project leader, Karen J. Poppe. American Printing House for the Blind, 2017.
Description: "… encourages young braille readers to acquire and demonstrate their knowledge of the braille cell configuration, braille alphabet letters, one-cell contractions, and numbers through movement. This product's related games and activities address many skills and concepts needed by students with visual impairments and blindness including the following: social interaction skills ; self-expression and creativity ; physical activity ; body awareness/coordination ; tactile discrimination ; spatial concepts."–APH website.

BRAILLE
Poppe
Textures
/ [Karen Poppe, product developer]. American Printing House for the Blind, 2013.
Description: "These concept books provide interactive, independent learning for young children as they build basic concepts and develop early tactile skills. The format of LINE PATHS (and future Flip-Over-Concept Books) includes tactile and full-color panels that can be turned freely until the child finds adjacent panels that match, continue a line or pattern, complete a sequence, build an image, and so on. Introduce and practice these concepts and skills: directional, spatial, and descriptive vocabulary such as curved, straight, zigzag, down, up, stair-step, wavy, diagonal, wide, narrow, etc. ; tactile discrimination and line-tracking ; familiarization with many types of tactile lines that will later be encountered in tactile displays (graphs, maps, etc.) ; visual discrimination and line-tracking (Note: each of the 10 line paths is assigned a unique background color)"–APH website.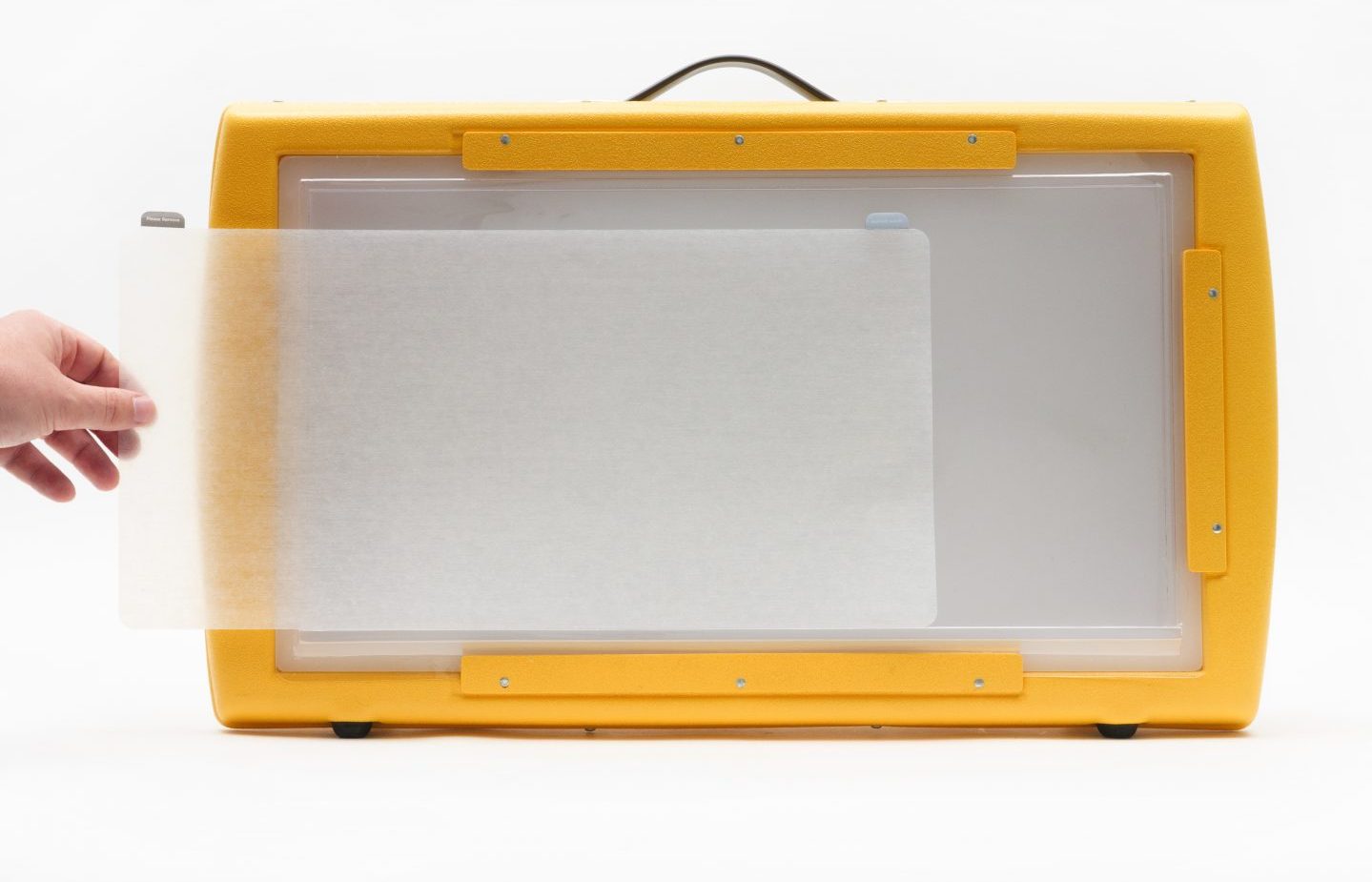 EQUIP
SS107
Ledge
Mini-lite box ledge [device].
American Printing House for the Blind, [2020?]
Description: "The Light Box Ledge slides into place and helps support bulkier light box materials (Swirly Mats, Bright Shapes Knob Puzzles, etc.) when a learner uses/views the Light Box at an angle. The accompanying Dycemª is a translucent mat that adheres to the Ledge or the Light Box lens, enabling light box materials to stick to the surface of the Dycem when viewing the Light Box at an angle.."–Publisher's website.
updated November 13, 2020
New Library Materials for October 2020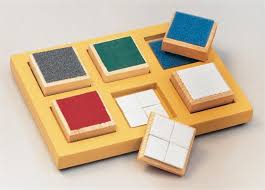 EQUIP
G139
Textured
Textured matching blocks [game].
American Printing House for the Blind, Inc., [198-?]
Description: Textured blocks fit into the appropriate spaces in the board helping young children learn tactual matching of textures.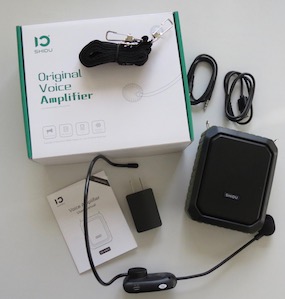 EQUIP
H42
Original
Original voice amplifier [device] : loud speaker/MP3 player/AUX.
SH1DU, [2020]
Description: Portable, waterproof bluetooth amplifier. Specifications: output power (18W) ; battery capacity 3.7V, 4400mAh ; charging voltage 5V, 1A ; charging time 3-5 hours ; working time 10-12 hours (depending on volume). Adjustable microphone headset. Can be used outdoors ; by teachers, coaches, fitness instructors and others ; for singing, presentations and more. Can be used as a bluetooth speaker and a power bank for emergency charging. Supports recording, loop playback, Aux input, micro SD card and U disk.

EQUIP
LV132
VideoMag
Video mag HD [device]
/ American Printing House for the Blind, Freedom Scientific.
Description: "… provides crystal-clear, full-color images by magnifying whatever appears under its auto-focus HD camera by 2x to 13x. Ideal for viewing labels, price tags, receipts and more…. features an ergonomic, fold-away handle which allows the user to hold the magnifier close to an object, press the magnification buttons for continuous zoom, and then freeze the image on the screen. The unit also has a reading line and reading mask feature that can be used to quickly locate and maintain one's place while viewing an image or reading text on the LCD screen. … can save and store approximately 80 images that can easily be copied to a computer through a simple USB connection. The unit also has a reading line and reading mask feature that can be used to quickly locate and maintain one's place while viewing an image or reading text on the LCD screen."–APH website.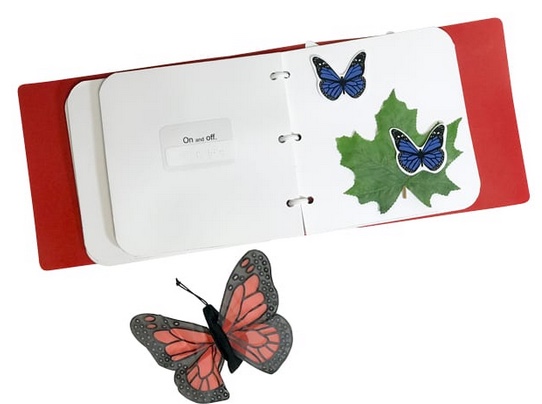 BRAILLE
372.6
Clarke
Laptime and lullabies [kit] : sharing the joys of literacy with your infant or toddler who is blind or visually impaired
/Kay L. Clarke. American Printing House for the Blind, Inc., 2018.
Description: "For parents and teachers of children up to three years of age; use Butterflies and Where's Little Fuzzy? story books (both with tactile, braille, and print components) to facilitate the skills necessary to build an understanding of language before beginning to read the written word, including: evaluating one's environment; understanding reciprocal communication; developing listening skills; and more. … With a little "thinking out of the book," you and your little one can discover literacy activities that are both enjoyable and meaningful."
BRAILLE
Gutman
Ms Sue has no clue! [braille]
/ Dan Gutman. Produced at National Braille Press, [2020?].
Description: "Alexia's mom, Ms. Sue, leads the kids of Ella Mentry School in the weirdest fundraiser in the history of the world!"– Provided by publisher.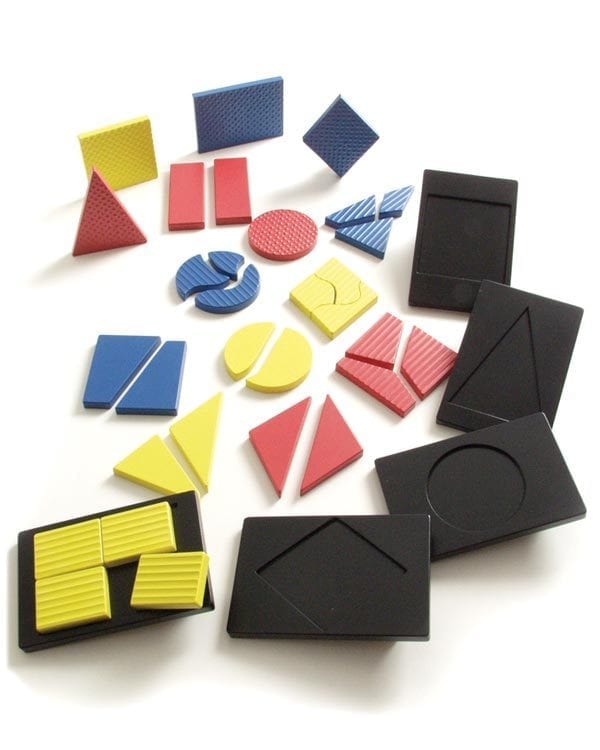 EQUIP
G140
Puzzle
Puzzle form-board kit.
American Printing House for the Blind, 1970?
Description: The shapes (circle, square, triangle, rectangle, diamond) are colour and textured coded. Each shape has 1 whole, 2 part and 3 part sections (rectangle is divided into 4 parts). Designed for use by pre-school or primary level children learning basic concepts of form, shape, texture, colour, size and manipulation.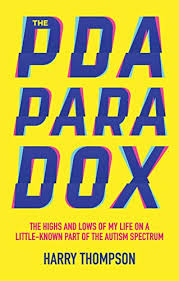 618.928581
Thompson
The PDA paradox : the highs and lows of my life on a little-known part of the autism spectrum
/ Harry Thompson ; foreword by Felicity Evans. J. Kingsley, 2019.
Description: "Diagnosed with Pathological Demand Avoidance (PDA) in his teenage years, Harry Thompson looks back with wit and humour at the ups and downs of family and romantic relationships, school, work and mental health, as well as his teenage struggle with drugs and alcohol. By embracing neurodiversity and emphasising that autistic people are not flawed human beings, Thompson demonstrates that some merely need to take the "scenic route" in order to flourish and reach their full potential. The memoir brings to life Harry's past experiences and feelings, from his torrid time at school to the peaceful and meaningful moments when he is alone with a book, writing or creating YouTube videos. Eloquent and insightful … and I'm Harry! Unqualified will bring readers to shock, laughter and tears through its overwhelming honesty. It is a turbulent memoir, but it ends with hope and a positive outlook to the future"– Provided by publisher.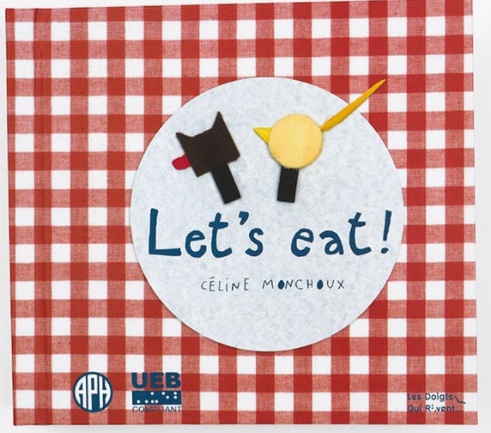 BRAILLE
Monchoux
Let's eat! [braille]
/ Celine Monchoux ; [graphic and tactile adaptation, Solene Negrerie, Les Doigts Qui Revent, France ; translation, Suzette Frere Wright].
Description: Build a foundation for numeracy and literacy skills with this engaging tactile storybook, as children use the finger puppets, Little Chick and Little Wolf, to gobble up the variety of tactile foods on their plates! Reading aloud can be one of the most powerful contributions adults make to a young child's development of literacy. Sharing books in an interactive manner, and talking about the text and illustrations, has been demonstrated to build vocabulary and strengthen oral language skills. Not least important, reading aloud from a book enjoyed by both child and adult connects reading to pleasure. For emergent print readers, pictures act as an important bridge helping the child take a more active role in reading, as a listener and as a reader. Tactile illustrations in Let's Eat are designed to serve a similar purpose. In addition, they offer critically important opportunities to build exploratory skills, tactile discrimination skills, and encounter spatial relationships.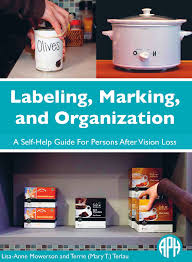 648.5
Mowerson
Labeling, marking, and organization : a self-help guide for persons after vision loss
/ Lisa-Anne Mowerson and Terrie (Mary T.) Terlau. American Printing House for the Blind, 2014.
Description: This book with accompanying recordings of the text on CDs teaches you to organize with and without labeling, and to create customized marking systems. Vision rehabilitation therapists can use the book as homework for their consumers — and consumers can use this book on their own. If you are tired of opening apricots instead of tomatoes, wearing your navy shirt with black slacks, or floundering through files when trying to find your utility bill, then Labeling, Marking, and Organization may be the book you need! … it contains practice activities in to help you get started on labeling tasks. "Explorers" (fictitious persons who lost vision) are working through the book along with you, to keep you motivated and encouraged! Helps You: identify items without labeling or marking them ; clear out clutter ; organize by using placement systems and organizers ; identify items by using your non-visual senses and your remaining vision ; select the label or mark that will fit the task ; stay in charge of your labeling system. Learn to label: food (frozen, canned, boxed) ; cleaning supplies ; paperwork, credit cards, keys ; medications, personal grooming products ; clothing and accessories ; remotes, DVDs, CDs, TVs, stereos ; hobbies, games, crafts.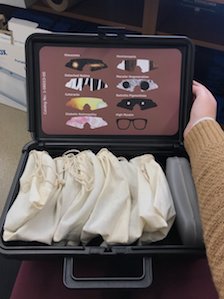 EQUIP
LV133
SeeLikeMe
See like me [kit] : visual simulation filters.
American Printing House for the Blind, 2020.
Description: "With the look and feel of standard safety glasses, these Simulators have also been fit with inserts to mimic common eye conditions, and are designed to present a version of each specific eye condition listed below. This product is different from others on the market because they show the color changes that are often present in certain eye conditions, as well as differences in vision that an occur between the two eyes. … the See Like Me Low Vision Simulators cannot mimic any person's exact vision; instead, they give a general sense of what it is like to function with low vision that stems from a particular condition."–APH website. For disability awareness. Contnents: Cataract — glaucoma — diabetic retinopathy — macular degeneration — retinitis pigmentosa — detached retina — hemianopsia — high degree myopia.
Updated October 27, 2020