For more information: Search the Library Catalog on the Web
Other lists of new materials are here.
New Library Materials for April 2020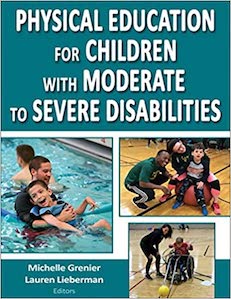 371.904486
Physical
Physical education for children with moderate to severe disabilities / Michelle Grenier, PhD, Lauren J. Lieberman, PhD, editors. Human Kinetics, [2018]
Description: For students with moderate to severe disabilities, instruction in physical education can be a challenge. Many teachers struggle with understanding these students' complex needs, selecting appropriate content, and finding ways to motivate these students. While many educators consider the social aspects of inclusion a priority, the authors in this text stress active engagement with the curriculum and the use of grade-level outcomes to adapt learning for students with a range of abilities. One thing is certain: The keys to making physical education a positive learning experience are the physical education teachers and adapted physical education teachers who work with these students.

362.418
RomanLantzy
Cortical visual impairment : an approach to assessment and intervention / Christine Roman-Lantzy. 2nd ed. AFB Press, American Foundation for the Blind, [2018]
Description: Cortical Visual Impairment: An Approach to Assessment and Intervention provides educators, therapists, physicians, and parents of children with CVI with an understanding of the condition and a complete framework for assessment and intervention. The new and revised content in this second edition brings the book up-to-date with new research and insights into CVI, its development and progression, and the best approaches to assessment and intervention with children affected by this condition. As in the previous edition, assessment forms, including the CVI Range and CVI Progress Chart, provide a comprehensive method for evaluating the functional vision status of, and program planning for, children with CVI.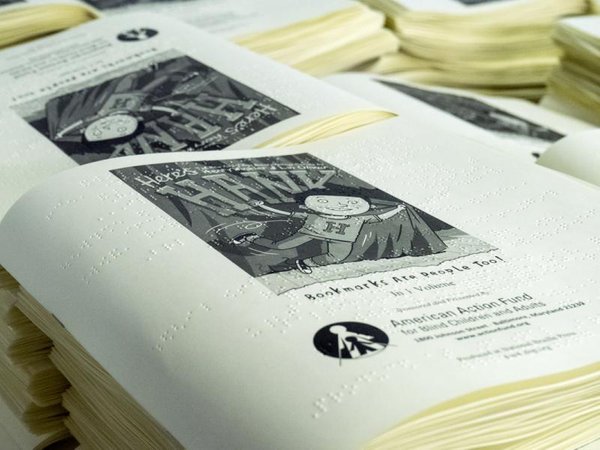 BRAILLE
Gutman
Mrs Lilly is silly! [braille] / Dan Gutman. Produced at National Braille Press, [2020?].
Description: On Career Day at Ella Mentry School, local reporter Mrs. Lilly helps A.J. and his fellow third-graders start a school newspaper, but their efforts have unexpected, and terrible, consequences.
Updated April 2020
New Library Materials for March 2020
New Deaf-Blind Program Materials
DB
649.1511
Articles
[Articles on Deaf-Blindness for parents] Collected by SESA, 2001-2011]
Contents: Introduction to sexuality education for individuals who are deaf-blind and significantly developmentally delayed / Kate Moss, Robbie Blaha — Home talk : a family assessment of children who are deafblind / developed by the Bringing It All Back Home Project — Communication fact sheets for parents / Kathleen Stremel [et al.] ; NTAC, National Technical Assistance Consortium for Children and Young Adults Who are Deaf-Blind — Home inventory of problem solving skills for children with multiple disabilities / by Charity Rowland and Philip Schweigert ; with illustrations by Carolyn Mills — Family information guide to assistive technology and transition planning : planned transitions are smooth transitions! / Jacqueline Hess, Ana Maria Gutierrez — IEP meeting checklist for parents of children with deaf-blindness / developed by the Statewide Parent Advocacy Network in collaboration with Perkins School for the Blind — Developing an effective IEP for children with deaf-blindness : a parent mini-guide / developed by the Statewide Parent Advocacy Network in collaboration with Perkins School for the Blind — The evaluation of children with deaf-blindness : a parent mini-guide / developed by the Statewide Parent Advocacy Network in collaboration with Perkins School for the Blind — Transition to adult life for youth with deaf-blindness : a parent mini-guide / developed by the Statewide Parent Advocacy Network in collaboration with Perkins School for the Blind.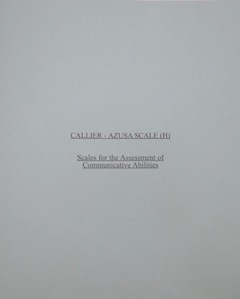 DB
616.855
Stillman
Callier-Azusa scale (H) : scales for the assessment of communicative abilities / Robert Stillman and Christy Battle. Callier Center for Communication Disorders, University of Texas at Dallas, c1985.
Description: The Callier-Azusa Scale is an assessment scale designed to offer the educator and clinician a comprehensive, developmentally-based framework for viewing the communicative abilities of deaf-blind and severely/profoundly handicapped persons. Its purpose is to provide assessment information relevant to planning individualized, communication-based intervention programs and to provide a means for documenting developmental change in both communicative competence and the cognitive and social abilities related to communicative development.
New Braille Materials

BRAILLE
Gutman
Mr Harrison is embarrassin'! [braille] / Dan Gutman.
Description: When the power goes out in the school, everyone panics in the dark, and only nerdy Mr. Harrison, who can fix and build anything, can save the day.
New Equipment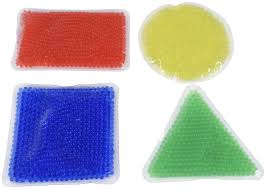 EQUIP
SS100
GelBead
Gel bead sensory shapes.
Description: Squishy sensory fidgets are filled with gel beads that you can squeeze and smoosh around. Fidgets come in in 6 different shapes, each in a different color. Shapes measure approximately 3 to 5 inches across. Great for sensory stimulation and stress relief. Non-toxic. Visually stimulating bright, colorful blocks in varied shapes and sizes. Promotes tactile exploration. Refines fine and gross motor skills.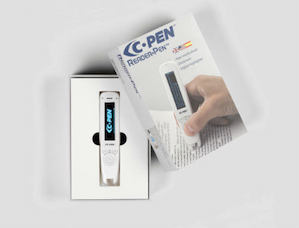 EQUIP
LV131
CPen
C-pen ReaderPen. Scanning Pens Inc., [2016?]
Description: "The C-PEN ReaderPen is a portable scanning pen which reads printed text out loud using an embedded camera, a real-time optical character recognition (OCR) and natural voice text to speech (TTS). C-PEN ReaderPen is designed with the objective to promote active and independent reading and learning."–ReaderPen Quick Start Guide, page 2.
March 23, 2020