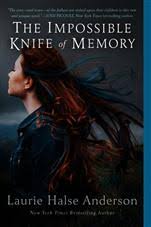 AI Reserve
Anderson
The impossible knife of memory / Laurie Halse Anderson. Speak, an imprint of Penguin Group (USA), 2015.
Description: Hayley Kincaid and her father move back to their hometown to try a "normal" life, but the horrors he saw in the war threaten to destroy their lives.

AI Reserve
JUV
McElroy
Love, Lizzie : letters to a military mom / Lisa Tucker McElroy ; illustrated by Diane Paterson. Whitman, c2005.
Description: Nine-year-old Lizzie writes to her mother, who is deployed overseas during wartime, and includes maps that show her mother what Lizzie has been thinking and doing. Includes nonfiction tips for helping children of military families.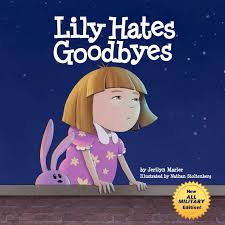 AI Reserve
JUV
Marler
Lily hates goodbyes / by Jerilyn Marler ; illustrated by Nathan Stoltenberg. Quincy Companion Books, c2012.
Description: Lily's Daddy is in the military. Join her as she learns to cope with her emotions and to be happy in her daily life while she looks forward to joyfully saying hello when Daddy gets home.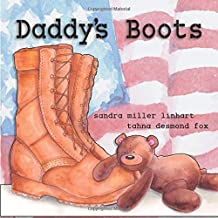 AI Reserve
JUV
MillerLinhart
Daddy's boots / Sandra Miller Linhart ; Tahna Desmond Fox. 2nd ed. Lionheart Group Publishing, 2017.
Description: "It's Boot's task to take Daddy where he's needed, but it is Daddy's job to explain why. Boots say Daddy is getting ready to deploy, but Bean needs to know why Daddy is leaving, what he does while he's away, and why Bean can't go with him. Daddy is a soldier and his boots are preparing to take him away again. If Bean can hide Daddy's boots will Daddy be able to stay? Daddy explains to Bean the many things Daddy's called to do, why his boots sometimes have to take him far away and how his work is really not so much different than other daddies' jobs. Being deployed is a fact of life for soldiers of all military branches. Humanitarian efforts, operations other than war (OOW), peaceful or wartime missions - a soldier's duty is to be there. Sometimes it means leaving little ones behind wondering why. Daddy's Boots is a touching description of a few quiet moments between Daddy and his young child, Bean, as Daddy prepares to deploy for his job with the military." -- Amazon.com.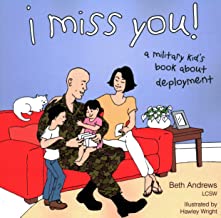 AI Reserve
JUV
Andrews
I miss you! : a military kid's book about deployment / Beth Andrews ; illustrated by Hawley Wright. Prometheus Books, 2007.
Description: Based on many years of experience as a social worker, who has assisted military families experiencing stress, this guide is an excellent tool for allowing children and their loved ones to deal with the many emotions caused by deployment. Illustrations.

AI Reserve
JUV
Hardin
Hero dad / by Melinda Hardin ; illustrated by Bryan Langdo. Marshall Cavendish, 2010.
Description: A young boy demonstrates that while Dad differs from a traditional superhero, as an American soldier he is a superhero of a different kind.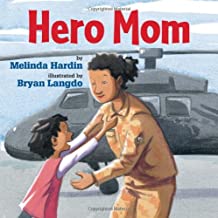 AI Reserve
JUV
Hardin
Hero mom / by Melinda Hardin ; illustrated by Bryan Langdo. 1st ed. Amazon Children's Publishing, 2013.
Description: The moms in this book are superheroes. They may not leap over tall buildings, and they may not have super-human speed. But these moms construct buildings, fly planes, and make tanks roll. They do all kinds of things to help create a safer world. These superheroes are moms. Military moms. Hero moms.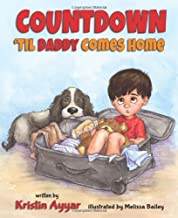 AI Reserve
JUV
Ayyar
Countdown 'til daddy comes home / written by Kristin Ayyar ; illustrated by Melissa Bailey. Mascot Books, [2013]
Description: As a young boy waits for his father to come home from a trip, his family creates rituals to stay connected and to make the separation easier.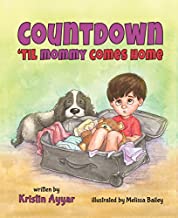 AI Reserve
JUV
Ayyar
Countdown 'til mommy comes home / written by Kristin Ayyar ; illustrated by Melissa Bailey. Mascot Books, [2013]
Description: This is the story of a young boy waiting for his mommy to come home from a trip. To make their separation easier, his family creates rituals to stay connected and make the countdown fly by. Inspired by her experiences, Kristin Ayyar share how her family copes with the separations that are part of everyday life. -- From cover.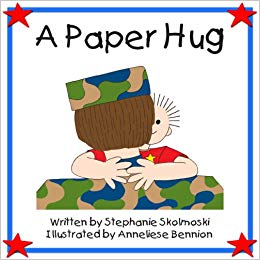 AI Reserve
JUV
Skolmoski
A paper hug / written by Stephanie Skolmoski ; illustrated by Anneliese Bennion. S. Skolmoski, c2006.
Description: A little boy thinks of a special gift to give his dad who being deployed to serve his country.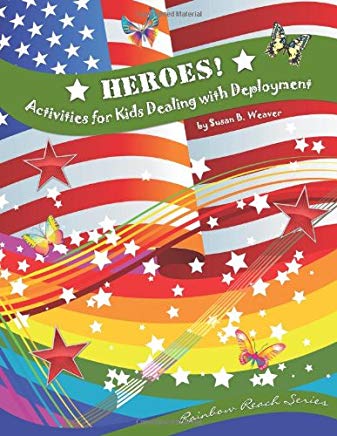 AI Reserve
362.829
Weaver
Heroes! : activities for kids dealing with deployment / by Susan B. Weaver. Rainbow Reach, [2011]
Description: A book to help children cope with the separation of having a parent or loved one deployed. Includes drawing and writing activities that enable a child's feelings to be expressed.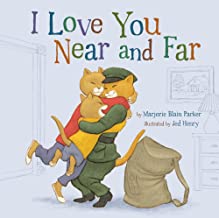 AI Reserve
JUV
Parker
I love you near and far / by Marjorie Blain Parker ; illustrated by Jed Henry. Sterling Children's Books, [2015]
Description: Rhyming text relates how a cat child deals with missing Dad and Grandma, who both live far away.
AI Reserve
JUV
Ehrmantraut
Night catch / Brenda Ehrmantraut ; illustrated by Vicki Wehrman. Elva Resa, [2014]
Description: "When a soldier's work takes him halfway around the world, he enlists the help of the North Star for a nightly game of catch with his son"-- Provided by publisher. Includes facts about the North Star.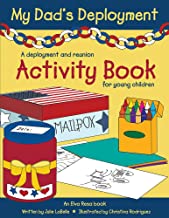 AI Reserve
JUV
355.129
LaBelle
My Dad's deployment : a deployment and reunion activity book for young children / written by Julie LaBelle ; illustrated by Christina Rodriguez. Elva Resa, 2009.
Description: "The activities in this fun 112-page activity book reinforce concepts young children are already learning and give them a safe way to ask questions, talk about their feelings, and feel connected to a deployed parent. Four sections (Getting Ready for Deployment, Deployment, Getting Ready for Reunion, and Reunion) provide appropriate activities for each stage of deployment, from packing and saying goodbye to welcoming Dad home. Includes mazes, dot-to- dots, counting, matching, coloring, crafts, telling time and other activities familiar to preschool and elementary children. A fun book for children and an excellent resource for parents, teachers, counselors, and other caregivers to help young children feel a part of the deployment process and prepare them for what's coming next. This book is specific to a dad deploying."

AI Reserve
JUV
355.00973
Scillian
H is for honor : a military family alphabet / written by Devin Scillian ; illustrated by Victor Juhasz. Sleeping Bear Press, c2006.
Description: "Using the alphabet format, this picture book describes the many situations and experiences that military families, especially their children encounter. For example history, rank, and quarters are explained"--Provided by publisher.

AI Reserve
Doller
Something like normal / Trish Doller. Bloomsbury, 2012.
Description: When Travis returns home from Afghanistan, his parents are splitting up, his brother has stolen his girlfriend and car, and he has nightmares of his best friend getting killed; but when he runs into Harper, a girl who has despised him since middle school, life actually starts looking up.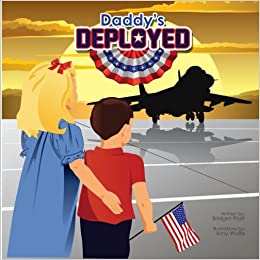 AI Reserve
JUV
Platt
Daddy's deployed / written by Bridget Platt ; illustrated by Amy Wolfe. Lone Survivor Foundation, 2014.
Description: Daddy's Deployed aims to truly connect the child to the deployed parent, no matter how many thousands of miles may separate them. We are also thrilled to announce that we have partnered with the Lone Survivor Foundation and will be donating a portion of our monthly profits to this amazing organization. The Lone Survivor Foundation is here to help America's Wounded Warriors and their families adjust to the effects of their experiences and help them transition into what may be looked at as their 'new normal' – providing an understanding and acceptance of who they are as a person, a family, and a community. Copy 1, girl version. Copy 2, boy version.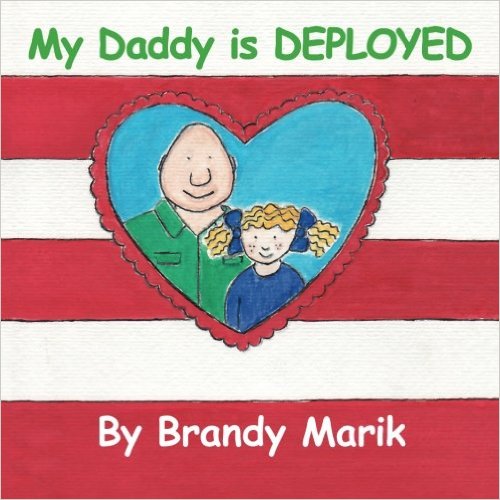 AI Reserve
JUV
Marik
My daddy is deployed / by Brandy Marik. B. Marik, 2013.
Description: In this lighthearted children's book, a little girl named Anna talks to her mom about her daddy being deployed. Deployment is a new experience for this little girl, as it is with many more children every year, and she doesn't like it very much at all. Anna and her mom explore her feelings about deployment and all of the ways that the little girl can think of to get her daddy home...fast. Anna's mom encourages her creativity through make-believe and imaginative play. In the end, Anna's mom tells her that they need to be strong and daddy will be home before she knows it. Anna dreams about the day her daddy comes home and how perfect it will be! Like other board books intended for children ages 0 - 3 this book is illustrated with large colorful pictures depicting Anna's ideas, while short sentences tell about the picture for developing young readers. The story is 190 words in length for developing attention spans. The artwork is intended to be another part of the learning experience for young readers, teaching children the names of different types of different objects, colors and places in the world around them. The "feeling" words in this book are intended to help young children learn more about some of the feelings they may experience when a parent is deployed, or on a trip away from home.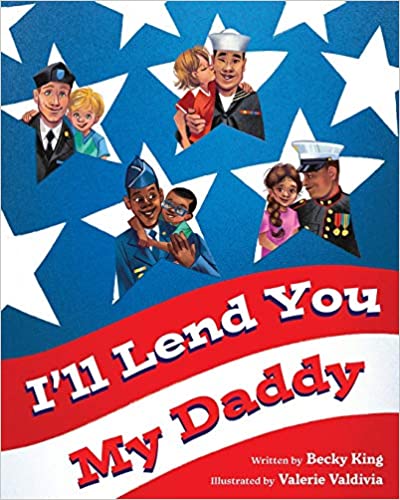 AI Reserve
JUV
King
I'll lend you my daddy / written by Becky King ; illustrated by Valerie Valdivia. Starts With Us, an imprint of Pivotal Publishing, [2020]
Description: "Young boys and girls find ways to manage their feelings about deployment (from goodbyes, to the first night, to missed birthdays) as they eagerly await their fathers' return. Through the support of family and friends, care packages, and calls, these children grow strong with the knowledge of what it means to serve and generate pride from within that makes glorious reunions all the more sweet by book's end"--Back cover.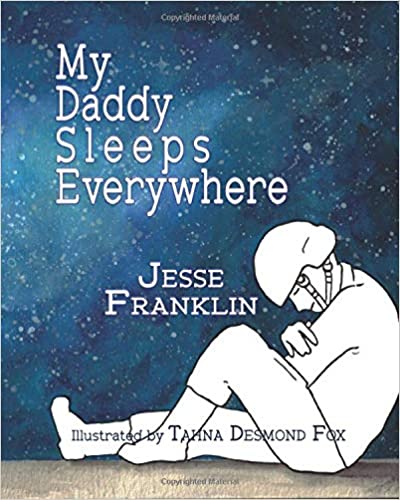 AI Reserve
JUV
Franklin
My daddy sleeps everywhere / Jesse Franklin ; [illustrated by] Tahna Desmond Fox. Lionheart Group Publishing , [2017]
Description: "As military families tuck in for the night, their thoughts often turn to daddies who can't always be home. This children's military deployment book shows some of the many places daddy sleeps while he is away. In this wonderful story, daddy travels to every clime and place including the mountains, the prairie, the jungle, and everywhere in between. Though daddy's particular location and sleeping arrangements are constantly changing, one thing never does: no matter how far daddy is from home, home is never far from his mind."-- Back cover.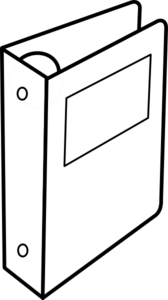 AI Reserve
332.024
Your
Military
Your money, your goals: focus on military families : a companion guide to educate and empower military communities to make financial decisions. Consumer Financial Protection Bureau, 2021.
Description: "Military life comes with unique financial situations. This guide provides insight and guidance to persons and organizations that serve military communities, including active-duty, reserve and National Guard service members, veterans, and their families. The guide includes tools specially designed to address common financial challenges that military consumers face, such as: Whether to buy or rent a house while serving in the military ; How to leverage special savings opportunities exclusive to military families ; How the military relief societies can help when you're in need ; How to financially plan for a Permanent ; Change of Station ; How to spot military affinity marketing and scams ; The guide was developed with the support of people and organizations that serve the military and veteran communities."--publisher's website.
September 2021