Other lists of new materials are here.
For more information: Search the Library Catalog on the Web
New AARC Materials | New Autism Program Materials | New Materials | New VI Materials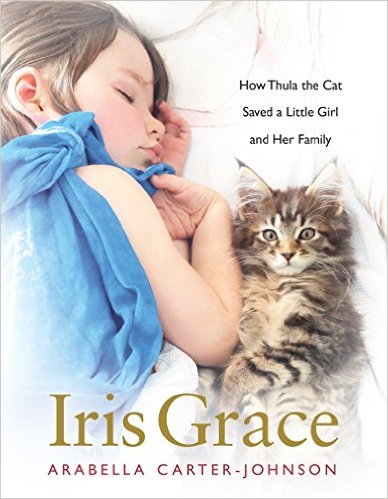 AI Reserve
618.92858820092
CarterJo
Iris Grace : how Thula the cat saved a little girl and her family Arabella Carter-Johnson ; with illustrations by Alice Tait. Skyhorse Publishing, [2017]
Description: "Iris Grace is different. From the moment she was born she found the world a strange and terrifying place: she neither smiled nor spoke. The doctors couldn't help, telling her parents she might never be able to communicate - she'd never call them mummy or daddy. But then Iris met Thula. This special kitten and Iris became instant best friends. They did everything together - painting, playing, bathing, snuggling, sleeping, exploring. And then a miracle happened: Iris said her first words."-- From the publisher.


AI Reserve
303.69
Johnson
Spotlight on reasoning & problem solving Paul F. Johnson & Carolyn LoGiudice. LinguiSystems, c2007.
Description: Students become purposeful, active thinkers as they focus on one thinking strategy at a time. Each book targets a specific reasoning and problem solving skill and develops metacognitive thinking with: activities sequenced by complexity ; visual cues that are gradually faded ; skills defined in student-friendly terms ; a variety of curricular and daily living topics ; simple sentence structure and vocabulary so students can focus on learning the concepts ; minimal writing requirements at the beginning levels ; a pretest/posttest.
Six volumes: Solving problems -- Sequencing -- Making predictions & Inferences -- Facts & opinions -- Comparing & contrasting -- Causes & effects (on order).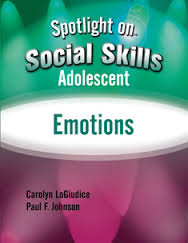 AI Reserve
370.153
SocialSkills
Spotlight on social skills, adolescent Emotions Carolyn LoGiudice and Paul F. Johnson. LinguiSystems, Ã2008.
Description: Increase success in social communication with instruction that systematically targets specific skills and uses a variety of learning methods. The activities teach explicit aspects of social skills in everyday contexts with these learning strategies: explicit instruction ; modeling ; observation ; discussion ; role ; playing ; other guided practice. The activity pages are filled with graphic organizers and interesting photos. The lessons give students specific, clear directions that help them navigate their often confusing social world. The lessons can be presented to individual students or small groups of students. A pretest/posttest is included in each book. ... students explore how emotion affects responses and how to respond appropriately to others' emotional states. They learn how to handle bullies and to use self-control in emotionally-charged situations, as well as consider hidden factors for a behavior.
Ages 11-18, grades 6-adult.
One volume at this time: Emotions.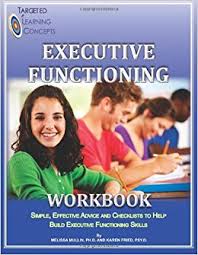 AI Reserve
371.94
Mullin
Executive functioning workbook Melissa Mullin, Ph. D. and Karen Fried, Psy. D. K & M Center. Inc., [2013]
Description: "Many students struggle with organization, planning, completing homework, and creating an effective study routine. School seems more challenging for them than their peers. These children may be labeled as disorganized, absent-minded, scattered, or forgetful by teachers, when in reality the issue is underdeveloped executive function – a skill, like any other, that can be taught! ... increases student's ability to plan, start, and finish work independently. It identifies student's aims and challenges, builds thinking skills, and provides tools to help build organizational strategies: judging time accurately ; building "Working Memory" ; breaking down complex projects into manageable, orderly tasks ; orrectly estimating how long tasks will take ; starting, stopping, and changing activities. ... the first subject- matter book geared toward the STUDENT – providing worksheets and advice for students to develop and improve their Executive Functioning skills. The step-by-step worksheets and checklists designed by educational experts Melissa Mullin Ph.D. and Karen Fried PsyD MFT are the results of over 20 years of helping students succeed in school. Parenting and teaching solutions utilize student's strengths and weaknesses help build organization and establish a schedule that works. ... provides easy to follow, hands-on guidance and support to help students organize, plan, and follow through on tasks."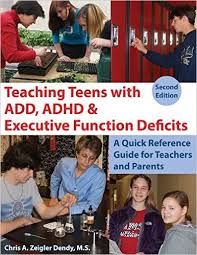 AI Reserve
371.94
Zeigler
Teaching teens with ADD, ADHD & executive function deficits : a quick reference guide for teachers and parents Chris A. Zeigler Dendy. 2nd ed, Rev. and expanded. Woodbine House, c2011.
Description: "Thousands of teachers and parents have relied on the authoritative, concise information ... for advice on meeting the educational, medical, and social needs and challenges of adolescents with these conditions. This updated edition provides more than 80 summaries (annotated checklists for easy consumption) chock full of new information on research, teaching strategies, education law, executive functioning, social skills, and medication. ... Chris Dendy is encouraging to educators about the challenges of teaching and managing behavior, while reminding them that attention issues are due to problems in the brain that students can't control. Summaries fall into these important categories: The Basics of ADD & ADHD ; Academic and Learning Issues ; Executive Function and Organizational Skills ; Federal Laws ; Medication Issues ; Managing Behaviors ; Going the Extra Mile."--publisher's website.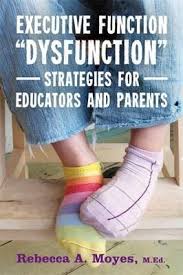 AI Reserve
371.94
Moyes
Executive function "dysfunction" : strategies for educators and parents Rebecca A. Moyes, M. Ed. Jessica Kingsley Publishers, 2014.
Description: This book describes the cognitive processes that make up the executive functions and uses real examples to show how difficulties may manifest - from organizational and time management problems, to lack of attention and behavioural difficulties. It offers practical hints, tips, and accomodations for tackling these issues, making it useful for helping children with executive function difficulties, including those with learning disabilities, ADHD, and autism spectrum disorder.--From back cover.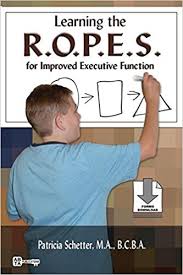 AI Reserve
371.94
Schetter
Learning the R.O.P.E.S. for improved executive function : a cognitive behavioral approach for individuals with high functioning autism and other behavioral disorders Patricia Schetter, M.A., B.C.B.A. ABTA Publications, c2008, 2004.
Description: "... discusses and includes all the forms and an assessment tool to fully implements the strategies. The book provides the reader with great content including: an understanding of executive dysfunction in children with high functioning autism and Asperger Syndrome ; strategies to address the behavior excesses and deficits typically associated with these disorders ; step by step instruction on teaching the skills necessary for overcoming many deficits of executive functioning including: recall, organization and planning, prioritizing and goals setting, evaluation and critical thinking skills, self management, and strategies to provide the necessary structure and support while these skills are being acquired. ,,,full of useful worksheets and graphic organizers, that are uniquely designed to capitalize on the visual strengths of children with high functioning autism and Asperger Syndrome to assist them in learning how to "think through" complex situations using these visual maps and structures as their guide. Many case studies cited provide the reader with "real life" examples of the successful implementation of the strategies presented from primary grades through adulthood. Educators have commented that the strategies are also very helpful to learners who have ADD, ADHD, learning disabilities, and the typical student who struggles with organization."--Publisher's website.


AI Reserve
618.9289
Levine
Trauma through a child's eyes : awakening the ordinary miracle of healing Peter A. Levine and Maggie Kline. North Atlantic Books, 2006.
Description: This is an essential guide for recognizing, preventing, and healing childhood trauma, from infancy through adolescence what parents, educators, and health professionals can do. Trauma can result not only from catastrophic events such as abuse, violence, or loss of loved ones, but from natural disasters and everyday incidents such as auto accidents, medical procedures, divorce, or even falling off a bicycle. At the core of this book is the understanding of how trauma is imprinted on the body, brain, and spirit, resulting in anxiety, nightmares, depression, physical illnesses, addictions, hyperactivity, and aggression. Rich with case studies and hands-on activities, Trauma Through A Child's Eyes gives insight into children's innate ability to rebound with the appropriate support, and provides their caregivers with tools to overcome and prevent trauma.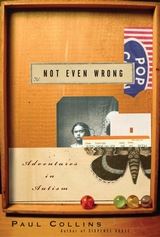 618.9285882
Collins
Not even wrong : a father's journey into the lost history of autism Paul Collins. Bloomsbury, 2005.
Description: ... melds a memoir of his son's autism with a journey into this realm of permanent outsiders. Examining forgotten geniuses and obscure medical archives, and beginning to see why he himself has spent a lifetime researching talented eccentrics, Collins shows how these stories are relevant and even necessary to shed light on autism.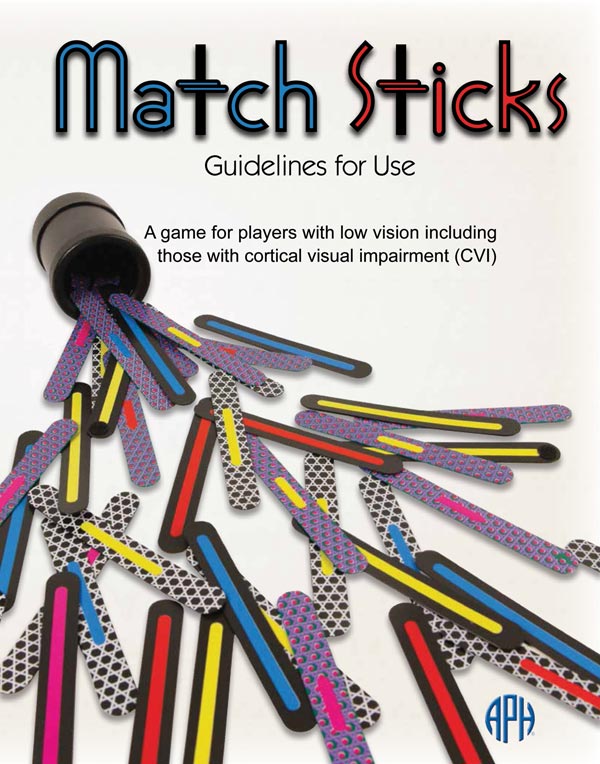 EQUIP
SS84
MatchSticks
Match sticks [game] : a game for players with low vision including those with cortical visual impairment (CVI). American Printing House for the Blind, c2014.
Contents: 60 match sticks in 3 different patterns and colors : colored, plastic ; 15 cm. + 1 dice shaker cup + 1 drawstring bag + velcro dots + 1 guide book (iv. 12 pages : colored illustrations ; 28 cm).
Description: "A game for players with low vision, including those with cortical vision impairment (CVI). The Match Sticks game is designed to provide children in Phases II and III of the CVI Range Assessment (see: Roman-Lantzy, C. (c2007). Cortical Visual Impairment: An Approach to Assessment and Intervention. American Foundation for the Blind Press.) with a matching activity that is fun and entertaining and that helps develop vision skills. Children for whom this game would be appropriate: at least 5 years of age ; currently in Phase II or Phase III according to the CVI Range Assessment ; able to recognize a particular color among other colors ; have emerging matching skills. Three sets of Match Sticks: Phase II Match Sticks have a long, brightly colored stripe on a noncomplex background ; Phase II Advanced Match Sticks have a medium length, brightly colored stripe on a black and white patterned background ; Phase III Match Sticks have a short, brightly colored stripe on a complex multicolored background. Use the following APH products to play with and display Match Sticks: All-In-One Board, All-In-One Board Student Model, Invisiboard, Tri-fold Board, Felt Board, Small black Work-Play Tray, Small yellow Work-Play Tray, Large black Work-Play Tray, Large Yellow Work-Play Tray. ... booklet provides a full description of game prerequisites, components of the game, set-up and directions for play, modifications for game play, alternate play options, and vision skill goals."--APH website.

EQUIP
BVI129
MATTconnect
MATT connect™ an APH/HumanWare partnership product. Louisville, KY : American Printing House for the Blind, 2017.
Description: "An educational smart tablet magnifier for the connected student! ... The MATT Connect™ is a magnifier, distance viewer, and an educational tablet with pre-loaded software - all in one device! Students can: magnify a print document ; read a book from an online library ; conduct internet research ; view a smartboard ; write and email assignments ; take a test ... Features: lightweight, sturdy, and extremely portable ; 12-inch full HD touchscreen, removable from the stand ; live 1-24x HD magnification with intelligent LED illumination ; capture and save single or multiple pages, providing accurate OCR with 1-80x magnification ; audio reading option for dual-modal learning ; Diamond Edge fonts with perfect clarity ; powerful wireless camera for distance viewing, up to 40x magnification ; pre-installed: APH educational app Nearby Explorer™ Online (with additional APH apps to be added in the future), Google Suite apps, Dropbox, several e-book readers (subscription may be required), and many more. Open Android™ platform provides access to 1,500,000 additional apps."--APH website.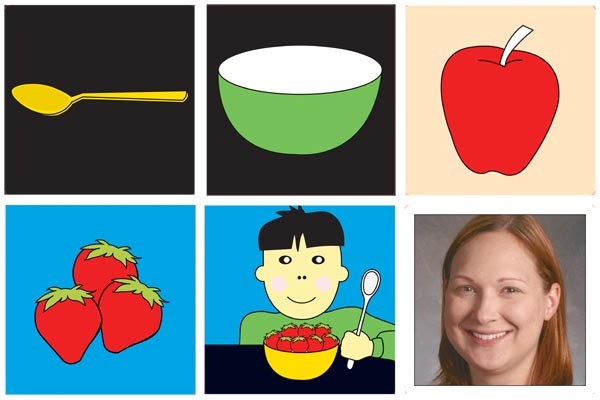 EQUIP
SS85
Tadpole
Tadpole object cards [realia] American Printing House for the Blind. American Printing House for the Blind, [2016].
Description: Photos and drawings of familiar objects in color, with color backgrounds.