Other lists of new materials are here.
For more information: Search the Library Catalog on the Web
New Materials for the DHOH Program | New Materials on Autism Spectrum Disorders
New Materials for the DHOH Program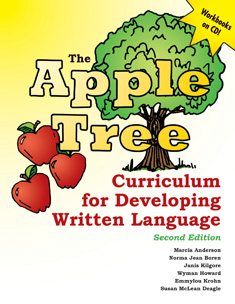 407
AppleTree
The Apple Tree curriculum for developing written language Teacher's manual / Marcia Anderson [and others] ; illustrated by Susan McLean Deagle. 2nd ed. Pro-Ed, [1999]
Description:"... a language system that provides a sequence of procedures for the construction and development of basic English sentence structures. Retaining the same, time-tested teaching strategies as the original, its main thrust is to help the student develop written language skills. Although this curriculum was designed for the hearing impaired, it is also appropriate for students learning English as a second language and those with specific language impairment. Improvements in the new edition include: redesigned workbooks and teacher's manual, updated illustrations, and fully integrated pre- and post-test materials included within the manual for convenience. The content of the curriculum has been revised to reflect the needs of diverse populations. The Apple Tree Program reinforces and builds on material previously introduced and allows for development of vocabulary and related concepts. Small steps ensure students' success and continuous learning. The result is improved self-image and the motivation to master more material. Ten basic language structures are taught in these chapters: N1 + V(be) + Adjective ; N1 + V(be) + Where ; N1 + V(be) + N1 ; N1 + V N1 + V + Where ; N1 + V + Where + When ; N1 + V + N2 ; N1 + V + N2 + Where ; N1 + V + N2 + Where + When ; N1 + V + N3 + N2. Complete program includes: Manual and Workbooks on CD."--publisher's website.

371.912
Anderson
Building skills for success in the fast-paced classroom : optimizing achievement for students with hearing loss / Karen L. Anderson & Kathleen A. Arnoldi. Supporting Success for Children with Hearing Loss, c2016.
Description: "Provides a number of options for evaluating and instructing students in the too often overlooked areas that can and do have a tremendous impact on all students' abilities to make progress in the general education curriculum: social interaction and conversational skills, communication repair, self-concept and self-advocacy skills, and classroom access. These areas are assessed in three hypothetical students ranging in grade level (grades 1, 3 and 9) and hearing loss."--Page xvi.
Grades K-12.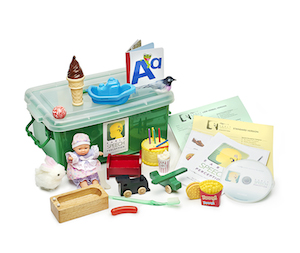 ASMT
371.912
EarlySpeech
Early speech perception. Central Institute for the Deaf, c2012.
Description: The CID Early Speech Perception kit is a test of speech perception for children as young as 3 years old who are profoundly deaf. The ESP is typically used by audiologists and may be used to establish objectives and to measure effects of a hearing aid or a cochlear implant in terms of their impact on the child's speech perception ability. The kit includes a revised manual, low-verbal and standard scoring forms, 18 toys, full-color picture cards and a new, clinician-friendly CD featuring easy-to-use menus, digitally remastered sounds, two randomizations and a new All Words menu for use with set protocols and research. In this 2012 update, the original ESP (by Geers and Moog) is respected, but enhanced. Additional low-verbal and standard scoring forms are sold separately.
New Materials on Autism Spectrum Disorders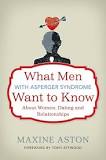 616.858832
Aston
What men with asperger syndrome want to know about women, dating and relationships / Maxine Aston ; foreword by Tony Attwood. Jessica Kingsley, c2012.
Description: "Positive, practical and realistic, this book offers everything men with Asperger Syndrome (AS) need to know about women and relationships. Many AS men are totally confused and bewildered by women, dating and relationships and find it hard to know what to do, what to say and how to get it right. For these men, understanding the emotional side to relationships and women's needs can be a complete mystery and they often get it disastrously wrong. This practical handbook provides all the answers to Asperger men's frequently asked questions about women, dating and relationships, helping them to better understand the way relationships work and increasing their confidence and ability to have successful relationships. This comprehensive handbook is essential reading for men with Asperger Syndrome (and their partners). It will also be of considerable use to counsellors and other professionals working with such individuals."--Publisher's description.