Other lists of new materials are here.
For more information: Search the Library Catalog on the Web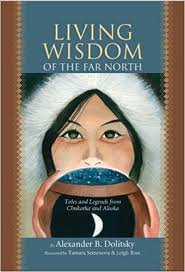 ER
398.20947
Dolitsky
Living wisdom of the Far North : tales and legends from Chukotka and Alaska / [compiled by] by Alexander B. Dolitsky ; illustrated by Tamara Semenova & Leigh Rust. 1st ed. Alaska-Siberia Research Center, Ã2011.
Description: Consists of 4 Siberian Yupik stories and 4 Chukchi tales previously published in two works edited by Dolitsky, in 1997 and 2000, as well as 2 original tales by Dolitsky.
"... compiles several traditional oral stories of the aboriginal peoples of the Russian and North American Far North and includes two new literary stories created in the spirit of those traditions. In this edition, each story is set out in both Russian and English, not only to make the story available to Russian readers, but also for the purpose of providing a comparative study of the effects of each language's writing conventions on the oral narratives. As is evident from the linguistic variations found in the side-by-side English and Russian versions printed in this volume, different punctuation and other grammatical rules influence each written rendition of the old oral narrative, which, in turn, influences the voice in which the reader "hears" the story told. This volume is designed with four groups of readers in mind: first, young children who like an engaging picture story; second, young adult readers interested in deepening their intercultural understanding of circumpolar traditions and Far North lifestyles; third, English- speaking students of the Russian language and Russian-speaking students of the English language; and, finally, ethnographers, academicians, and others seeking to engage with the oral folk creations of the Far North in order to learn more about not only that area's geography and geographic origins, its cultures, and its historical events, but also some of the issues surrounding the recording and modern day written presentation of its indigenous tales. The stories of the aboriginal peoples of the Chukchi Peninsula and Alaska provide a window through which one can glimpse, across time, not only the ideology, customs, and beliefs of the Siberian Yupik and Chukchi peoples, but also geological and historical events and the particulars of everyday life that shaped their economy and core values, which in turn shaped their cultural traditions."