New Nonfiction Books | New DHOH Materials | New Juvenile and Young Adult Novels | New AARC Materials
Other lists of new materials are here.
For more information: Search the Library Catalog on the Web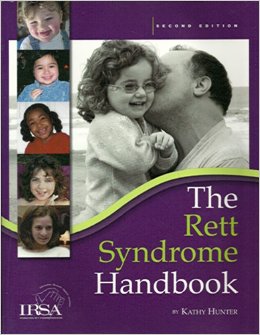 618.9285884
Hunter
The Rett syndrome handbook / by Kathy Hunter. 2nd ed. International Rett Syndrome Association, c2007.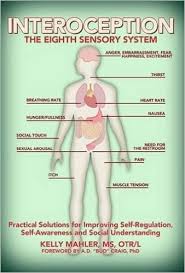 612.8233
Mahler
Interoception: the eighth sensory system : practical solutions for improving self-regulation, self-awareness and social understanding of individuals with autism spectrum and related disorders / Kelly Mahler, MS, OTR/L ; foreword by A.D. "Bud" Craig, PhD. AAPC Publishing, [2016]
Description: Interoception, a newly identified eighth sense, allows us to "feel our internal organs and skin and gives information regarding the internal state or condition of our body." As such it is also a key component of our emotional experience. This is an area of difficulty for many, including those with autism spectrum disorders. The book reviews the research underlying the effects of poor interoception and outlines strategies for how to ameliorate these effects.-- Publisher.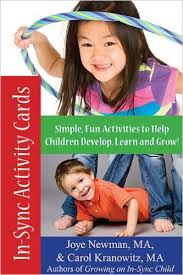 612.04
Newman
In-sync activity cards / Joyce Newman, MA, and Carol Kranowitz, MA ; [illustrations Durell Godfrey]. Sensory World, [2012]
57 activity cards.
Description: Program of fifty adaptable, easy, and fun activities to help develop and enhance a child's motor development. These activity cards are divided into beginner, intermediate, and advanced activities. Each card tells you why and how the activity works, what you need for it, and ways to make it more challenging. It also tells you what to look for to make sure the child is getting the most out of the activity.
Ages 5 -11 years.


372.916434
Guthridge
The kids from nowhere : the story behind the Arctic educational miracle / George Guthridge. Alaska Northwest Books, c2006.
Description: "An award-winning writer delivers the inspiring, true story of Alaskan Eskimo students who, despite lacking world knowledge and speaking English as a second language, manage to achieve great educational feats."--Source other than the Library of Congress.


305.908162
Sacks
Seeing voices : a journey into the world of the deaf / Oliver Sacks. HarperPerennial, 1990.
Description: "...a journey into the world of the deaf, which he explores with the same passion and insight that have illuminated other human conditions for his readers everywhere.... begins with the history of deaf people in the United States, the often outrageous ways in which they have been seen and treated in the past, and their continuing struggle for acceptance in a hearing world. And it examines the amazing and beautiful visual language of the deaf–Sign–which has only in the past decade been recognized fully as a language–linguistically complete, rich, and as expressive as any spoken language. The existence of this unique alternative mode of language, writes Dr. Sacks, has wide-ranging implications for those in the hearing world as well, for it "shows us that much of what is distinctly human in us–our capacities for language, for thought, for communication, and culture–do not develop automatically in us, are not just biological functions, but are, equally, social and historical in origin; that they are a gift–the most wonderful of gifts–from one generation to another….The existence of a visual language, Sign, and of the striking enhancements of perception and visual intelligence that go with its acquisition, shows us that the brain is rich in potentials we would scarcely have guessed of, shows us the almost unlimited resource of the human organism when it is faced with the new and must adapt." Sign is not only a language but the very medium of deaf culture. It stands at the center of the extraordinary social and political movement for deaf rights, which gained international attention with the uprising of deaf students at Gallaudet University in March 1988. In Part III of Seeing Voices, Dr. Sacks gives an eyewitness account of the revolt, and the students who organized it, and considers its impact on a new generation of deaf children. ... a fascinating voyage into a strange and wonderful land, and along the way Oliver Sacks ponders the nature of talking and teaching, child development, the development and functioning of the nervous system, the formation of communities, worlds, and cultures, and the interface of language, biology, and culture."--author's website.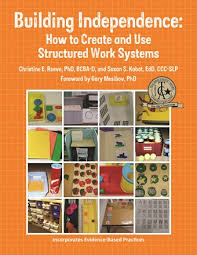 371.94
Reeve
Building independence : how to create and use structured work systems / Christine E. Reeve, and Susan S. Kabot ; foreword by Gary Mesibov. AAPC Pub., c2012.
Description: Detailed description of and rationale for setting up structured work systems for individuals with autism spectrum and related disabilities as a means of fostering independence, skill mastery, reduction of behavioral outbursts, etc.--Publisher.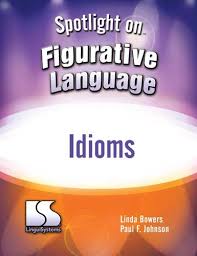 372.6
Figurative
Spotlight on : figurative language / by Linda Bowers and Paul F. Johnson. LinguiSystems, c2012.
Description: v. 2. Idioms -- v. 3. Indirect language -- v. 4. Metaphors -- v. 5. Multiple meanings.
In-depth lessons in figurative language help students understand and use abstract expressions. ... students will detect shades of meaning, communicate clearly, and add richness to their verbal expression. help upper elementary and junior high students comprehend and use figurative language in communication, reading, and writing. As their confidence builds they'll start using a variety of language forms to add expression to their own verbal and written communication. The abstract aspects of figurative language are spelled out with clear explanations and examples for students with language disorders. Each book uses the successful formulate of the Spotlight series: lessons in general developmental progression ; step-by-step advancement to build success and motivation ; a wide variety of curricular content as well as daily life experiences ; uncomplicated grammar ; current, age-appropriate topics ; a pretest/posttest. Each book targets a specific figurative language skill area.
Ages 8 through 14; Grades 3 through 9.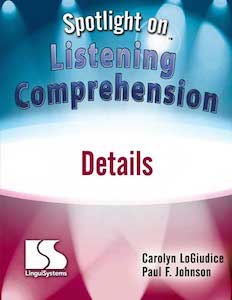 372.69044
Listening
Spotlight on listening comprehension / by Carolyn LoGiudice and Paul F. Johnson. LinguiSystems, Description: [1] Details -- [4] making inferences -- [5] reasoning and problem solving -- [6] Story comprehension.
Different communication situations have different goals, whether it's obtaining information, securing directions, or solving a problem. This series teaches students to know what they are listening for and match their listening strategy to the communication situation. ... these activities help students develop listening skills with ; picture-supported lessons that shift to listening-only activities ; carefully controlled vocabulary ; a wide variety of curricular content as well as daily life experiences ; minimal demands for writing ; a pretest/posttest. The books are listed below in order of difficulty.


372.4
100%
K-5
100% curriculum vocabulary : grades K-5 / by Lynn K. Flahive and Janet R. Lanza. LinguiSystems, c2005.
Description: Teach vocabulary from the McREL word lists, textbooks, and general reading curriculum. Each six-page lesson presents a group of ten words. Students are introduced to the word definitions, and then they progressively apply the words to new contexts. There are 30 lessons and a total of 300 vocabulary words. The lessons are divided into three levels of difficulty: Primary Level (Grades K-1): Activities in this section have pictures to accommodate beginning readers. Lesson formats include definitions, fill-in-the-blanks, related meanings, rebus stories, comparisons, and picture scenes. Themes are geography, health, literature, science, and social studies. Intermediate Level (Grades 2-3): These activities require some reading and writing. Lesson formats include definitions, fill-in-the-blank, related meanings, crossword puzzles, scrambled sentences, and applied learning. Themes are English, grammar, geography, literature, science, and social studies. Advanced Level (Grades 4-5): Students use the targeted vocabulary in spoken and written contexts. Lesson formats include definitions, fill-in-the-blank, related meanings, crossword puzzles, writing sentences, and applied learning. Themes are English, research paper, geography, health, literature, science, and social studies.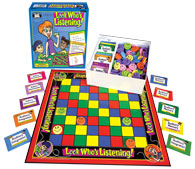 EQUIP
G134
LookWho
Look who's listening! : the auditory memory, integration and discrimination game / created by Rose Sheedy & Nancy Crist. Super Duper Publications, 2001.
Description: Ten auditory games in one to enhance auditory discrimination, auditory memory and auditory integration. Game variations: Uncover it, Dare to be square, Three in a row, Auditory race. For 2-6 players. Ages 4 and up.
New Juvenile and Young Adult Novels

JUV
Reynolds
As brave as you / Jason Reynolds. Atheneum Books for Young Readers, 2016.
Description: "When two brothers decide to prove how brave they are, everything backfires--literally"-- Provided by publisher.
Middle school ; ages 10 and up.


JUV
Lord
When we collided / Emery Lord. Bloomsbury, 2016.
Description: "Can seventeen-year-old Jonah save his family restaurant from ruin, his mother from her sadness, and his danger-seeking girlfriend Vivi from herself?"-- Copyright page.
Young adult.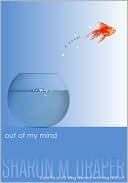 JUV
Draper
Out of my mind / Sharon M. Draper. Atheneum Books for Young Readers, 2010.
Description: "Eleven-year-old Melody has a photographic memory. Her head is like a video camera that is always recording. Always. And there's no delete button. She's the smartest kid in her whole school--but no one knows it. Most people--her teachers and doctors included--don't think she's capable of learning, and up until recently her school days consisted of listening to the same preschool-level alphabet lessons again and again and again. If only she could speak up, if only she could tell people what she thinks and knows ... but she can't, because Melody can't talk. She can't walk. She can't write." "Being stuck inside her head is making Melody go out of her mind--that is, until she discovers something that will allow her to speak for the first time ever. At last Melody has a voice ... but not everyone around her is ready to hear it."--Jacket.
Middle school; ages 10 and up.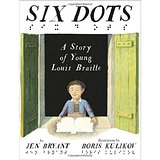 JUV
686.282092
Bryant
Six dots : a story of young Louis Braille / by Jen Bryant ; illustrations by Boris Kulikov. Alfred A. Knopf, [2016]
Description: Louis Braille was just five years old when he lost his sight. He was a clever boy, determined to live like everyone else, and what he wanted more than anything was to be able to read. Even at the school for the blind in Paris, there were no books for him. And so he invented his own alphabet -- a whole new system for writing that could be read by touch. A system so ingenious that it is still used by the blind community today. Elementary grade.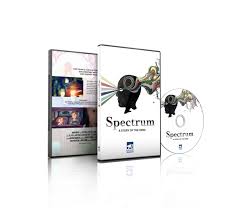 AI Reserve
AV
618.85882
Spectrum
Spectrum [videorecording (DVD)] : a story of the mind / a film by Jill Jones and Brent Yontz ; animation director Richard O'Connor and Gloria Arteaga. Nanuq Original, c2015.
1 DVD.
Description: While autism is largely regarded as a social disorder. Spectrum reveals the underlying sensory differences that create an autistic perspective. Rather than fearing autism. Spectrum seeks to understand it. The documentary premiered at the United Nations for the International Day of Persons with Disabilities.--Container.