New Books | New Children's Books | New Materials for the DSI Program | New DHOH Materials | New Devices
Other lists of new materials are here.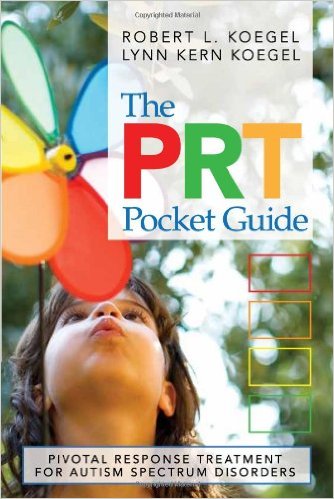 616.85882
Koegel
The PRT pocket guide : pivotal response treatment for autism spectrum disorders by Robert L. Koegel and Lynn Kern Koegel ; with invited contributor [Sarah Kuriakose]. Paul H. Brookes Pub., c2012.
Description: What is Pivotal Response Treatment? What's the research behind it, what does it look like in practice, and what are some good examples of how to use it? Now one concise book gives professionals and parents all the basics of the widely used PRT -- one of a select group of highly effective, evidence-based treatments for autism. A great resource for educators, behavior specialists, early interventionists, SLPs, occupational therapists, and families, this reader-friendly pocket guide is the perfect introduction to PRT, the popular approach that uses natural learning opportunities to modify pivotal areas of behavior. Pioneering autism experts Robert and Lynn Koegel speak directly to the reader, demystifying PRT and clearly explaining why it leads to widespread and rapid progress for children. Throughout the book, the Koegels engage readers with down-to-earth guidance based on best practice, true stories from their decades of experience with children and families, and clear explanations of what the research says about PRT. And the end-of-chapter questions for teachers, therapists, and parents reinforce key points and prepare them for effective PRT implementation. An essential first step in PRT training for every member of a child's support team, this quick and practical introduction will get everyone on board with PRT and equip them with the fundamentals they need to use it in the real world.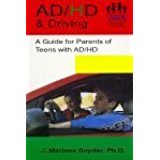 616.858900835
Snyder
AD/HD & driving : a guide for parents of teens with AD/HD J. Marlene Snyder. Whitefish Consultants, c2001.
Description: AD/HD & Driving includes the following: What we know about teen drivers. AD/ HD & coexisting disorders that impact driving behavior. 20 steps for parents that promote safe driving behaviors. How to deal with poor driving behaviors.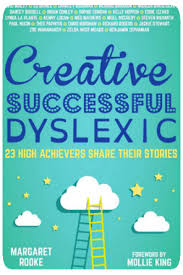 362.196855300922
Creative
Creative, successful, dyslexic : 23 high achievers share their stories edited by Margaret Anne Rooke ; foreword by Mollie King. Jessica Kingsley Publishers, 2016.
Description: First-person stories from well-known, successful people who also happen to have dyslexia. The stories prove that, although life with dyslexia can have its challenges, it is possible to achieve your goals and find success. The book includes contributions from Eddie Izzard, Darcey Bussell CBE, Benjamin Zephaniah and David Bailey CBE, among others.

618.928589
Archer
The ADHD advantage : what you thought was a diagnosis may be your greatest strength Dale Archer, MD. Avery, [2015]
Description: "Why ADHD could be the key to your success For decades physicians delivered the diagnosis of ADHD to patients as bad news and warned them about a lifelong struggle of managing symptoms. But The ADHD Advantage explodes this outlook, showing that some of the most highly successful entrepreneurs, leaders, and entertainers have reached the pinnacle of success not in spite of their ADHD but because of it. Although the ADHD stereotype is someone who can't sit still, in reality people with ADHD are endlessly curious, often adventurous, willing to take smart risks, and unusually resilient. They are creative, visionary, and entrepreneurial. Sharing the stories of highly successful people with ADHD, Dr. Archer offers a vitally important and inspiring new way to recognize ADHD traits in oneself or in one's loved ones, and then leverage them to great advantage--without drugs. As someone who not only has ADHD himself but also has never used medication to treat it, Dr. Archer understands the condition from a unique standpoint. Armed with new science and research, he hopes to generate public interest and even debate with his positive message as he guides the millions of people with ADHD worldwide toward a whole new appreciation of their many strengths and full innate potential"-- Provided by publisher.


618.928589
Jensen
Making the system work for your child with ADHD Peter S. Jensen. Guilford Press, c2004.
Description: There's lots of help out there for kids with ADHD, but getting it isn't always easy. Where can you turn when you've mastered the basics and "doing everything right" isn't enough--the insurer denies your claims, parent-teacher meetings get tense, or those motivating star charts no longer encourage good behavior? Dr. Peter Jensen has spent years generating ways to make the healthcare and education systems work--as the father of a son with ADHD and as a scientific expert and dedicated parent advocate. No one knows more about managing the complexities of the disorder and the daily hurdles it raises. Now Dr. Jensen pools his own experiences with those of over 80 other parents to help you troubleshoot the system without reinventing the wheel. From breaking through bureaucratic bottlenecks at school to advocating for your child's healthcare needs, this straightforward, compassionate guide is exactly the resource you've been looking for.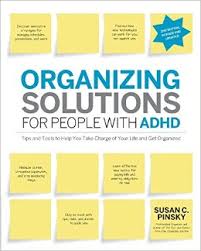 616.8589
Pinsky
Organizing solutions for people with ADHD : tips and tools to help you take charge of your life and get organized Susan C. Pinsky. 2nd ed., rev. and updated. Fair Winds Press ; Publishers Group UK [distributor], c2012.
Description: "ADD, Attention Deficit Disorder and ADHD, Attention Deficit Hyperactivity Disorder, are prevalent in society today, afflicting about 4.4% of the adult population, which is over 13 million Americans. Four out of every five adults do not even know they are ADD, and while it is often difficult to differentiate adults with true ADD from adults who are merely forgetful and disorganized, Organizing Solutions for People with ADD outlines new organizing strategies that will be of value to anyone who wants to improve their organizational, or lack of, skills in their life. The chapters consist of practical organizing solutions for ADD at Work; prioritizing, time management, and organizing documents, ADD at Home; paying bills on time, de-cluttering your house, scheduling and keeping appointments), ADD with Kids; driving them to various activities, grocery shopping and meals, laundry, babysitters, organizing drawers and closets, and ADD and You; organizing time for your social life, gym, and various other hobbies and activities. Color photographs that capture the short attention span of the reader are featured throughout, as well as sidebars and testimonials from adults with ADD, providing numerous organizational tips, such as, the importance of dividing time into minutes or moments, task completion, how to avoid procrastination, asking for help, and how not to be a packrat"--Publisher description.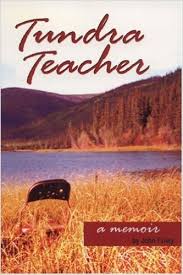 ER
979.804
Foley
Tundra teacher : a memoir by John Foley. 1st ed. Epicenter Press, c2003.
Description: First, he was a newspaper reporter, arts columnist, and obituary writer for the Anchorage Times. Little in journalism prepares him to be a schoolteacher in rural Alaska, where he teams as much as he teaches and finds out what it means to be in the racial minority. Foley teaches in the remote Eskimo village of Gambell on St. Lawrence Island in the Bering Sea. There, he and his unhappy wife are immersed in the Yup'ik culture. She feels lost and isolated, always the outsider, as they struggle to adjust. Foley helps haul in a whale, looks out for polar bears on the way to school, and learns that a quick way to earn respect is on the basketball court. Winning acceptance is another matter. Later, divorced, a philosophical Foley moves far inland to teach and coach basketball in the Athabascan Indian village of Tetlin on the Alaska Highway near the U.S.-Canada border, where the length of a road trips is measured in days rather than hours. In Tetlin, he has given up women temporarily. Or perhaps they have given up on him.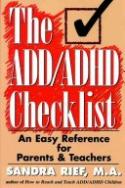 618.928589
Rief
The ADD/ADHD checklist Sandra Rief. Prentice Hall, c1998.
Description: A practical and concise format presents tested solutions to common ADD/ADHD behavior problems, such as fighting, disobeying rules, failing to complete homework, poor hygiene, name-calling, disorganization, bed-wetting, and talking back. Organized for quick access and easy use into eight sections. An indispensable guide for beleaguered teachers, counselors, and parents.

745.5
Kohl
Mudworks : creative clay, dough, and modeling experiences / ill., Kathleen Kerr. Bright Ring Pub., c1989.
Description: Anyone who likes to play in mud, playdough, papier-mache and similar mediums will love this book of over 125 clays, doughs, and modeling mixtures you can make yourself. The first chapter alone has 31 playdough recipes! Mudworks uses common household materials and requires no expertise. Ideal for fun or serious art for all ages, for home, school, or childcare.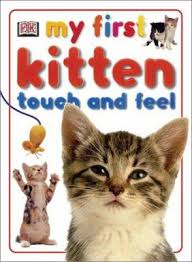 JUV
MyFirstKit
My first kitten / [U.S. editor, Elizabeth Hester]. DK Pub., c2003.
Description: Touch and feel book. Tickle the kittens and feel their toys. Board book.


JUV
Joosse
Mama, do you love me? by Barbara M. Joosse ; illustrated by Barbara Lavallee. Chronicle Books, c1991.
Description: A child living in the Arctic learns that a mother's love is unconditional. Board book.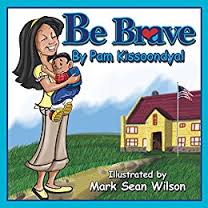 JUV
Kissoondyal
Be brave by Pam Kissoondyal ; illustrated by Mark Sean Wilson. Balboa Press, [2015]
Description: A mother tells her son to be brave as the first day of school approaches each year.

E
Babyfaces
Baby faces. DK, 2006, c1998.
Description: Board book. For 6 months and up. Babies introduce a range of expressions from happy to sad.
New Materials for the DSI Program


DB
SW136
Pillow
Petite pillow switch. Enabling Devices, [2013]
Description: ... ideal for people with limited head and limb movements. The unique switch is encased in foam and covered with a soft bag which can be easily removed and washed.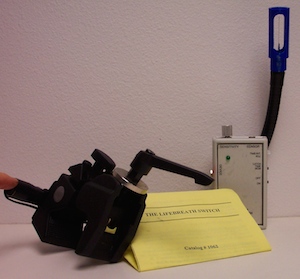 DB
SW137
LifeBreath
The life breath switch. Enabling Devices, 2012.
Description: ... a pneumatic switch designed for use by individuals with upper extremity and other physical disabilities. Gently blowing into the switch activates attached external devices. The switch is attached to a gooseneck with a universal clamp. This switch operates in latch, momentary, or timer mode. The timer adjusts from zero to two minutes. POWER: Uses nine-volt direct current. DIMENSIONS: The gooseneck is 19 inches long.

DB
SW138
Microflex
Microflex switch. Enabling Devices, 2012.
Description: .. designed primarily to be activated by the wrinkling of user's forehead. For best results, attach the Sensor Element to the center of forehead, and make sure the Element is already slightly arched forward when forehead muscles are relaxed. This will result in maximum bending of the element during the wrinkling and generate best possible input signal. Bear In mind that the switch was designed to discriminate between purposeful and uncontrolled wrinkling. Adjusting of the sensitivity level should allow you to find the position when fast purposeful movements will activate the switch, while slow uncontrolled movements will not. As an alternative, the switch can be attached to any other part of the body, and activated by any movement, which results in bending of the Sensor Element. As in the previous case, user should be aware that the switch reacts much better on short, quick movements. The speed, not the degree, of bending initiates the switching action. There are many other possible applications of this switch. For example, the Microflex Switch is sensitive to vibration. Thus, it can be used as an impact switch, e.g., if the Sensor Element is attached to the surface of the table, it will react on any vibrations of this surface, such as caused by striking it by a body part or any other object. Takes 1 9-volt battery.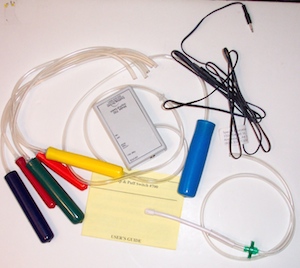 DB
SW139
GripPuff
Grip and puff switch. Enabling Devices, 2012.
Description: The pneumatic switch latch timer activates a device with a slight grasp on the soft vinyl grip. Activation pressure is adjustable ... The larger the grip, the easier it is to activate. You can remove the grip and use it as a Puff Switch, too. Moderate puffing required. Will need to order extra straws for puff use. Does not need a battery.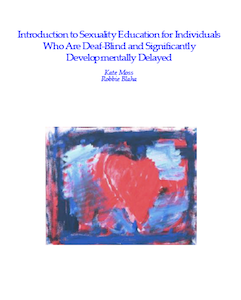 DB
613.907
Moss
Introduction to sexuality education for individuals who are deaf-blind and significantly developmentally delayed Kate Moss ; Robbie Blaha. DB-LINK, 2001.
Description: A book for parents and professionals, this text offers information and instructional guidance for delivering sex education to deaf-blind students who also have cognitive disabilities. Issues of self-expression related to gender identity, modesty, and appropriate touch are discussed. Specific instruction is included for menstruation, masturbation, hygiene, health, and sexual abuse.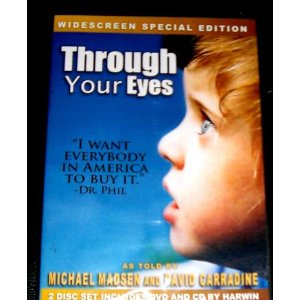 DB
362.41
Through
Through your eyes [videorecording (DVD)] produced by Cory Hudson & James Paul. Hands Free Entertainment, c2007.
1-DVD, 1-audio CD.
Description: The story of the only known deaf blind triplets in the world.


DB
305.9081
Victory
Victory & fragrance [videorecording (DVD)] : Kai Hsin's story Mellanie Lee, project director ; Kelly Roberts, principal investigator ; Mua Porotesano, producer and editor ; music by Stream of Praise. The Hawai'i Deaf-Blind Project, c2010.
Description: Documentary chronicles the life of Kai Hsin Chang, born with CHARGE Syndrome, a genetic disorder that results in multiple disabilities. Narrated principally by her mother, Stella Chang, the film includes English subtitles for the hearing impaired. Film covers early surgeries, early training and rehabilitation with specialists, and present-day schooling (age 11, 5th grade). Kai ("victory") Hsin ("fragrance") has low vision but can read print and communicates by sign language.


371.912
Price
CO.A.C.H. : self advocacy and transition skills for secondary students who are deaf or hard of hearing Lynne H. Price. [Lynne H Price], c2014.
Description: C.O.A.C.H. Is a 'How to' and 'What to do' book for the development of skills for secondary students. The program uses a problem solving model of C.O.A.C.H. - Concern- Observe- Access- Collaborate- make it Happen to address access and communication needs. The book includes: rationale for the instruction model, step by step directions, goals and activities, assessments, and reproducible worksheets. Each section addresses specific aspects of advocacy and develops underlying skills to support application. Learn how to guide your students to handle their use specific situations and to develop skills they will use for a life time. For those of you who liked Steps to Success, this book is an expansion of the instructional model and a more in-depth look at serving secondary students.


419.7
Brown
The art of sign language Christopher Brown. Thunder Bay Press, [2003]
Description: Learning sign language is a rewarding experience, which can lead to greater communication skill. This basic introduction guide is for people without any prior knowledge of using sign language. The approach to "Signed English" is based upon the way a child would first be taught their first language. In 17 separate sections, The Art of Sign Language teaches different themed exercises.ranging from everyday communication with people to the body, home, school, and leisure, eating, drinking and general descriptions.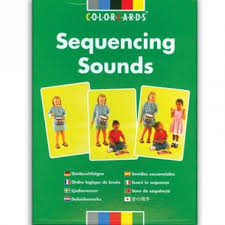 372.4
Colorcards
Sequencing sounds [multimedia]. Speechmark Publishing Ltd., 2004.
Description: ... a sound and picture matching activity. It involves the recognition of short sound sequences. The pack includes a CD containing the forty individual sounds, and forty matching laminated photocards. Each step of every sequence is illustrated. Each sequence is played once and is separated from the next sequence by a pause. There is a shorter pause between the individual sounds of a sequence, except where no pause occurs in reality. In this case, the sounds run on. The sequences are well known and familiar to most students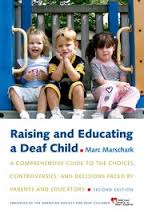 649.1512
Marschark
Raising and educating a deaf child : a complete comprehensive guide to the choices, controversies, and decisions faced by parents and educators Marc Marschark. 2nd ed. Oxford University Press, c2007.
Description: A readable, comprehensive summary of everything a parent or teacher would want to know about raising and educating a deaf child. It covers topics ranging from what it means to be deaf to the many ways that the environments of home and school can influence a deaf child's chances for success in academic and social circles. --from publisher description.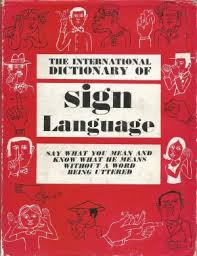 419
Brun
The international dictionary of sign language; a study of human behavior. Wolfe [1969]
Description: "A study of human behaviour." A guide to the signing systems from all over the world. "With well over 500 illustrations it represents the most complete collection of signs in existence."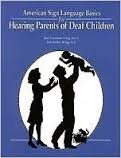 419
King
American Sign Language basics for hearing parents of deaf children Jess Freeman King, Jan Kelley-King. Butte Publications, c1995.
Description: This book was developed to introduce the basics of ASL in a non-threatening manner to hearing parents of deaf children. The easy-to-master format moves along at a comfortable pace, which allows parents to become progressively more competent in ASL.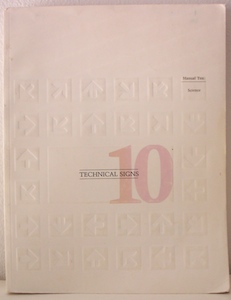 419
Technical signs. Manual 10, Science. 1st ed. Rochester Institute of Technology, National Technical Institute for the Deaf, 1989.
Description: The Technical Signs Project was established at Rochester Institute of Technology's National Technical Institute of the Deaf to facilitate effective and precise communication in academic and career environments through the establishment of a nationally-based system for collecting, evaluating, selecting, recording and sharing signs used in these environments. The basic tenet of this project is that usage by content experts who are skilled sign language communicators is the determiner for signs selected for recording.

EQUIP
T162
RockNRoll
Rock 'n roll Stuart [toy] : interactive minion. Thinkway Toys ; distributed by Adaptive Tech Solutions, [2016]
Description: Here's Minion Stuart from Despicable Me! Activate your switch and Minion Stuart "plays" his electric guitar and moves to the beat of the music. Stuart has been switch adapted to accept a standard 1/8" switch. Place him in "try me" mode and he'll respond to switch activation. Place him in "play" mode and he responds not only to your switch, but to your voice and other sounds. This is great for encouraging vocalization, clapping, talking, and enhances language skills. The movement and bright yellow color is great for people with CVI, too. Works with or without a switch. Measures approximately 6"L x 5"W x 9½"H. Requires 4 AA Batteries. Weight: 2 lbs. From Universal Studios Minions movie. Ages 4+.

EQUIP
T163
AtomRobot
Atom Robot [toy]. Westminster ; distributed by Adaptive Tech Solutions, 2017.
Description: Atom Robot will entertain for hours with lights, sounds and movement! Just press your switch to start the action. This futuristic robot has multicolor lights in his arms and chest, lighted eyes, a rotating head, moving arms, walking legs and discs that shoot from the top of his head (so don't load him up and let him come towards you!). Adapted with a standard 1/8" jack to accept a switch. Includes 12 discs. Requires 4 "AA" batteries and a switch (not included). Robot measures 9" x 6-1/2" x 4-3/4". Warning: Choking hazard-small parts. Not for children under 3 years old.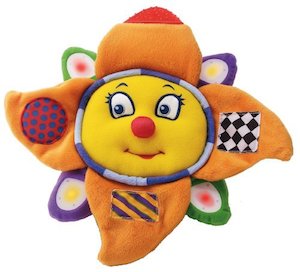 EQUIP
T164
Sunshine
Sunshine symphony [toy] : classical music at your baby's fingertips. Small World Toys ; Neurosmith ; distributed by Adaptive Tech Solutions, c2012.
Description: The Sunshine Symphony is a huggable, plush activity toy that plays beautiful classical music while sparkling lights flash. Optionally switch adapted to accept a standard switch. Features four musical compositions activated by a simple touch of the toy or your switch. Can also be used in a long-play lullaby mode. Fun tactile activities include a crinkle, squeak, beads and teether. Surface clean only. Measures approximately 11" x 11" x 3". Takes 3 AA batteries. Ages 0-36 months.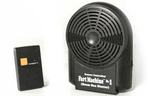 EQUIP
T165
Remote
Remote controlled fart machine no. 2 [toy]. T.J. Wisemen, Inc. ; distributed by Adaptive Tech Solutions, c2015.
Description: Everyone likes a good practical joke! So, why not have some fun with our switch adapted remote controlled fart machine.This is great fun for older kids with disabilities. Attach a switch to the remote button and set off one of 15 different fart sounds from up to 100 feet away! This is the greatest gag gift ever made - just hide the 3" battery powered speaker on or near the vicinity of someone, press your switch, and watch the embarrassment begin! Requires 9v battery not included. Can be used with any single switch with 1/8" plug (not included).