New AARC Books | New AARC DVDs | New AARC Kits | New AARC Children's Books | New DHOH Materials
Other lists of new materials are here.
For more information: Search the Library Catalog on the Web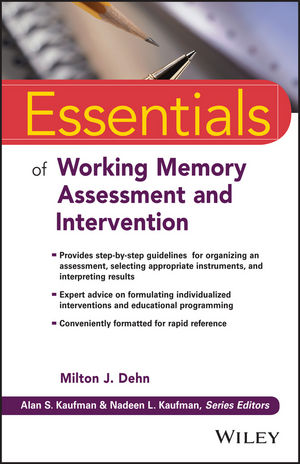 AI Reserve
153.13
Dehn
Essentials of working memory assessment and intervention / Milton J. Dehn. Wiley, [2015]
Description: "... an accessible, practical guide to accurately and efficiently assessing working memory. This comprehensive resource explains the theories of working memory, with an emphasis on cognitive load theory, and provides step-by-step guidelines for organizing a cross-battery assessment, selecting appropriate instruments, interpreting results, and formulating individualized interventions and educational programming. In-depth case studies illustrate typical profiles found in children and adolescents with working memory deficits, and the companion CD features worksheets, testing charts, and other useful resources. Reader- friendly design elements including Rapid Reference, Caution, and Don't Forget boxes, and practice questions, bullet points, and icons make this guide useful for both study and desk reference. Working memory deficits are the main reason why students with disabilities are unable to successfully respond to regular education interventions. Given the strong relationship between working memory and all areas of academic learning, a deeper understanding of working memory and the related assessments and interventions can facilitate greater achievement. This book helps readers: Understand the development and neuroanatomy of working memory Learn techniques for improving working memory in the classroom Examine strategies for brain-based working memory training Effectively utilize working memory assessment measures By examining the critical functions of working memory and its relationship with specific learning disabilities, then providing strategies for assessment and detailed intervention guidance, this book helps educators and professionals guide their students and clients toward improved cognitive functioning, , reduced frustration, and improved academic performance."--publisher's website.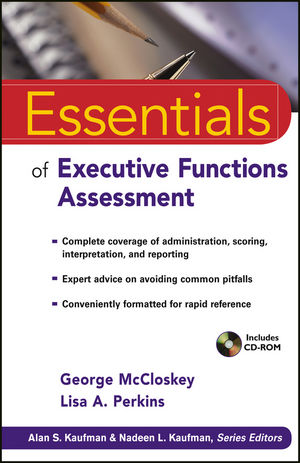 AI Reserve
150.287
McCloskey
Essentials of executive function assessment / George McCloskey, Lisa A. Perkins. John Wiley & Sons, c2013.
Book + CD.
Description: "Designed for professionals who want to learn how to administer, score, and interpret popular assessments of executive functions, including the Wisconsin Card Sorting Test (WCST), the Behavior Rating Inventory of Executive Functions (BRIEF, BRIEF-SR), the Delis-Kaplan Executive Function System (D-KEFS), and the NEPSY-II, among others. ... The book's accompanying CD-ROM contains interview forms for parents and teachers, student observation forms, reference material on the BRIEF and other rating scales, case-study reference material, and several sample psychoeducational assessment reports."--Page 4 of cover.
Executive function describes a set of mental processes that helps us connect past experience with present action, which is important for successful adaptation and performance in real-life situations. This book equips mental health practitioners (school, clinical, developmental pediatric, neuropsychologists, educational diagnosticians, and educational therapists) with all the information they need to administer, score, and interpret assessment instruments that test for executive function deficits associated with a number of psychiatric and developmental disorders.

AI Reserve
155.413
Snel
Sitting still like a frog : mindfulness exercises for kids (and their parents) / Eline Snel. 1st ed. Shambhala, 2013.
book + audio CD.
Description: Mindfulness--the quality of attention that combines full awareness with acceptance of each moment, just as it is--is gaining broad acceptance among mental health professionals as an adjunct to treatment. This little book is a very appealing introduction to mindfulness meditation for children and their parents. In a simple and accessible way, it describes what mindfulness is and how mindfulness-based practices can help children calm down, become more focused, fall asleep more easily, alleviate worry, manage anger, and generally become more patient and aware. The book contains eleven practices that focus on just these scenarios, along with short examples and anecdotes throughout. Included with purchase is an audio CD with guided meditations, voiced by Myla Kabat-Zinn, who along with her husband, Jon Kabat-Zinn, popularized mindfulness-based stress reduction (MBSR) as a therapeutic approach.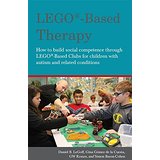 AI Reserve
618.92891653
LeGoff
LEGOª-Based Therapy : how to build social competence through LEGOª-Based Clubs for children with autism and related conditions / Daniel B. LeGoff, Gina Gâomez De La Cuesta, GW Krauss, and Simon Baron-Cohen. Jessica Kingsley Publishers, 2014.
Description: This complete guide to LEGO[registered] Therapy contains everything you need to know in order to set up and run a LEGO[registered] Club for children with autism spectrum disorders or related social communication difficulties and anxiety conditions.

AI Reserve
618.928589
Nylund
Treating Huckleberry Finn : a new narrative approach to working with kids diagnosed ADD/ADHD / [David Nylund]. 1st ed. Jossey-Bass, c2000.
Description: "Treating Huckleberry Finn offers a drug-free alternative to treating rambunctious children. Author David Nylund's SMART approach is a five-step strategy to understanding, nourishing, and learning to control the millions of youngsters who have been unfairly branded with the diagnoses of attention deficit disorder and attention deficit hyperactivity disorder."--Jacket.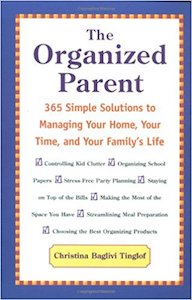 AI Reserve
646.70085
Tinglof
The organized parent : 365 simple solutions to managing your home, your time, and your family's life / Christina Baglivi Tinglof. Contemporary Books, c2002.
Description: "... a collection of tips and advice on how you can create an organized and efficient home and family schedule. Three hundred sixty-five tips--divided into quick fixes and major tune-ups--focus on parent-specific organizational problems. You will find solutions for everything from budgeting to housecleaning to organizing messy closets, children's bedrooms, and family vacations to cooking and shopping to maintaining daily routines."


AI Reserve
618.9285
ZeiglerDen
A bird's-eye view of life with ADD and ADHD : advice from young survivors! a survivor guide for children and teenagers / Chris A. Zeigler Dendy, Alex Zeigler. 2nd ed. Cherish the Children, c2007.
Description: "... written expressly for teenagers, preteens, and young adults by teenagers and a young adult who are struggling with ADD or ADHD. This survival guide for teens, preteens, and young adults offers factual information and practical advice in words and examples that young people can easily understand and put into practice. Written with humor and compassion, ... offers down-to-earth tips for coping with a variety of issues: disorganization, forgetfulness, always being late, sleep problems, memorization, procrastination, restlessness, medication, writing essays, and algebra. Filled with pictures, cartoons, and entertaining ADHD stories, this book is meant to be helpful yet still be interesting to read. The bottom line goal for this book is to provide teens and parents with educational information, strategies for coping, plus a sense of hope that they too will survive this sometimes overwhelming disorder. According to former Surgeon General Everett Koop, M.D., "No prescription can ever be as effective as education." A Bird's-Eye View provides the perfect first step in this educational process. "--author's website.


AI Reserve
616.8584
Miller
Motivational interviewing : helping people change / William R. Miller and Stephen Rollnick. erd ed. Guilford Press, c2013.
Description: "This bestselling work for professionals and students is the authoritative presentation of motivational interviewing (MI), the powerful approach to facilitating change. The book elucidates the four processes of MI: engaging, focusing, evoking, and planning and vividly demonstrates what they look like in action." -- Provided by publisher.
Begins with a thorough overview of the spirit and method of MI. Sections on each of the four processes offer step-by-step guidance for establishing a strong working relationship, developing a clear focus and direction, evoking and strengthening the client's motivation for change, and formulating a concrete plan of action-- Book jacket.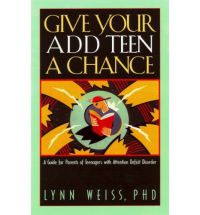 AI Reserve
616.858900835
Weiss
Give your ADD teen a chance : a guide for parents of teenagers with attention deficit disorder / Lynn Weiss. Pinon Press, c1996.
Description: "Expert help for parents of ADD teens. Determine which issues are caused by "normal" teenage development and which are caused by ADD. This book examines the academic challenges ADD teens face, offering tips for success at school and guidelines for discipline, guidance, and responsibility."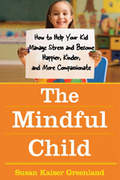 AI Reserve
649.6
Greenland
The mindful child : how to help your kid manage stress and become happier, kinder, and more compassionate / Susan Kaiser Greenland. 1st Atria paperback ed. Atria Paperback, 2013, c2010.
Description: Mindful awareness works by enabling you to pay closer attention to what is happening within you-- your thoughts, feelings and emotions-- so you can better understand what is happening to you. Greenland has developed techniques to teach mindful awareness to children, building their emotional and social skills and positively affecting their academic performance.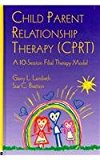 AI Reserve
618.92891653
Landreth
Child-parent-relationship therapy (CPRT) : a 10-session filial therapy model / Garry L. Landreth, Sue C. Bratton. Routledge, Taylor & Francis Group, c2006.
Description: "This book offers a survey of the historical and theoretical development of the filial therapy approach and presents an overview of filial therapy training and then filial therapy processes. The book also includes a transcript of an actual session, answers to common questions raised by parents, children, and therapists, as well as additional resources and research summaries. Additional chapters address filial therapy with special populations, filial therapy in special settings, and perhaps the most useful resource for busy therapists and parents, a chapter covers variations of the 10 session model, to allow for work with individual parents, training via telephone, and time-intensive or time-extended schedules."


AI Reserve
372.21
Bodrova
Tools of the mind : the Vygotskian approach to early childhood education / Elena Bodrova, Deborah J. Leong. 2nd ed. Pearson/Merrill Prentice Hall, c2007.
Description: "This unique text provides in-depth information about major concepts and principles of the cultural-historical theory developed by Lev Vygotsky, his students and colleagues, as well as three generations of neo-Vygotskian scholars in Russia and in the West. Tools of the Mind enables teachers to arm young children with the mental tools necessary for learning."--BOOK JACKET.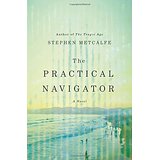 AI Reserve
Metcalfe
The practical navigator / Stephen Metcalfe. 1st ed. St. Martin's Press, 2016.
Description: "Michael Hodge is a struggling contractor living in Southern California raising his autistic son, Jamie, on his own. When his long-absent wife Anita returns unannounced wanting Michael isn't sure what a reconciliation? A new relationship? Her role as their son's mother back? Michael must decide whether to give her a second chance or protect his son from more hurt. Meanwhile, a burgeoning relationship that could be heading towards love is put on hold while Michael reexamines his feelings for this woman who abandoned them years earlier. With pitch perfect emotion and a beautiful portrayal of the relationship between a father and son , Stephen Metcalfe has drawn a rich and layered portrait of a what it means to be a family and what it means to be truly loved"-- Provided by publisher.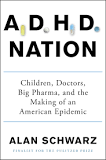 AI Reserve
618.928589
Schwarz
ADHD nation : children, doctors, big pharma, and the making of an American epidemic / Alan Schwarz. First Scribner hardcover ed. Scribner, 2016.
Description: "A groundbreaking and definitive account of the widespread misdiagnosis of Attention Deficit Hyperactivity Disorder--and its serious effects on children, adults, and society. More than 1 in 7 American children are getting diagnosed with Attention Deficit Hyperactivity Disorder (ADHD)--three times what experts have said is appropriate--making it one of the most mishandled and debated conditions in medicine. The numbers are rising every year. Now doctors and Big Pharma are targeting adults and the rest of the world to get diagnosed with ADHD and take medications that will "transform their lives." In ADHD Nation, Alan Schwarz takes readers behind the scenes to show the roots and rise of this cultural and medical phenomenon: There's the father of ADHD, Dr. Keith Conners, who spends fifty years pioneering the disorder and use of drugs like Ritalin before realizing his role in what he now calls "a national disaster of dangerous proportions"; a troubled young girl and studious, teenaged boy who get entangled in the growing ADHD machine and take medications that cause them serious problems; and a pharmaceutical industry that egregiously overpromotes the disorder and earns billions from the mishandling of children (and now adults). While demonstrating that ADHD is real and can be successfully medicated, Schwarz sounds an alarm and urges America to wake up and address this growing national problem"-- Provided by publisher.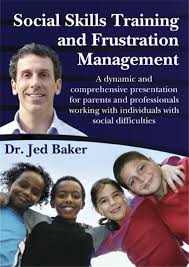 AI Reserve
AV
618.9285882
Social
Social skills training & frustration management [videorecording (DVD)] / Jed Baker. Future Horizons Inc., c2007.
Description: Intended for family members and professionals working with individuals with autism spectrum disorders, attention deficit disorders, learning disabilities, mood and anxiety disorders, and other issues that impact social-emotional functioning. Viewers will learn how to de-escalate meltdowns; prevent problems with comprehensive behavior plans; increase motivation to learn social skills; develop strategies to teach and generalize skills like conversation, conflict resolution, play, building relationships, dating, and employment readiness; create accepting peer environments and prevent bullying.


AI Reserve
618.928589
Flick
ADD/ADHD behavior-change resource kit : ready-to-use strategies & activities for helping children with attention deficit disorder / Grad L. Flick. Center for the Applied Research in Education, c1998.
Description: For teachers, counselors and parents, this comprehensive new resource is filled with up-to-date information and practical strategies to help kids with attention deficits learn to control and change their own behaviors and build the academic, social, and personal skills necessary for success in school and in life. The Kit first explains ADD/ADHD behavior, its biological bases and basic characteristics and describes procedures used for diagnosis and various treatment options. It then details a proven set of training exercises and programs in which teachers, counselors and parents work together to monitor and manage the child's behavior to achieve the desired results.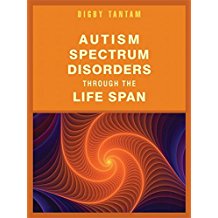 AI Reserve
616.85882
Tantam
Autism spectrum disorders through the life span / Digby Tantam. Jessica Kingsley Publishers, 2013.
Description: This professional text covers every aspect of Autistic Spectrum Disorders (ASD), from science to services, from the most disabling Kanner's syndrome to the most high-functioning Asperger syndrome, and from birth to old age. The book contains the latest research on the assessment, diagnosis, treatment, intervention and support of individuals with ASD, and examines their implications at various stages of life. A wide range of neurological, genetic, psychological, developmental, social, and emotional issues are covered, and the author also includes less accessible information on the diagnosis and treatment of associated psychiatric and medical conditions, the overlap between the ASDs and attention deficit hyperactivity disorder, and the management of behavioural and forensic problems. The author does not presume existing technical knowledge and the background to new methods of assessment, such as functional magnetic resonance imaging, standardized clinical and psychological assessment, and genetic testing, is explained. This book is a resource for working with individuals of all ages who are on the autism spectrum. It contains research into the causes and treatment of the disorder.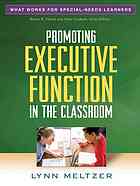 AI Reserve
371.3
Meltzer
Promoting executive function in the classroom / Lynn Meltzer. Guilford Press, c2010.
Description: "Accessible and practical, this book helps teachers incorporate executive function processes―such as planning, organizing, prioritizing, and self-checking―into the classroom curriculum. Chapters provide effective strategies for optimizing what K–12 students learn by improving how they learn. ... a wealth of easy-to-implement assessment tools, teaching techniques and activities, and planning aids. Featuring numerous whole-class ideas and suggestions, the book also shows how to differentiate instruction for students with learning or attention difficulties. Case examples illustrate individualized teaching strategies and classroom accommodations. More than a dozen reproducibles are included; the large-size format facilitates photocopying and day-to- day reference."

AI Reserve
371.94
Reif
The ADHD book of lists : a practical guide for helping children and teens with attention deficit disorders / Sandra F. Rief ; illustrated by Ariel Rief. 2nd ed. Jossey-Bass, a Wiley Brand, [2015]
Description: "The newly updated ADHD Book of Lists will be a comprehensive, reliable source of answers, practical strategies, and tools written in a convenient list format"-- Provided by publisher.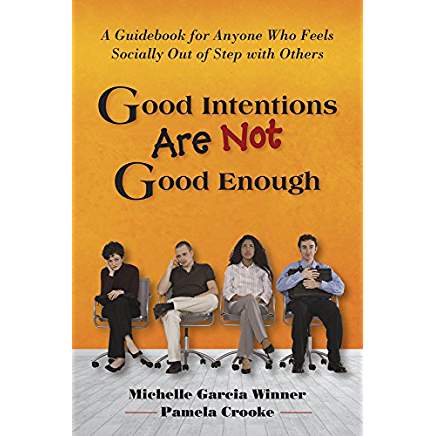 AI Reserve
650.13
Winner
Good intentions are not good enough / Michelle Garcia Winner, Pamela Crooke. Think Social Pub., c2016.
Description: ".The social mind... It's always on the job, even when you're off the job! Most people are born with an intuitive sense of the social world that allows them to naturally be aware of social expectations and feeds them the information they need to follow the social code. But not everyone is born with intuitive social understanding. Social learning challenges can be especially noticeable in the workplace, where it's assumed employees understand not only how to do their job but how to effectively work in a group, understand the hidden rules of office etiquette and office politics, and build and maintain solid professional relationships with others. This 200+ page book is a primer about the social mind in the workplace, but the concepts and strategies are equally applicable in all areas of life. It's largely based on the authors' years of clinical experience working with adults who struggle socially, but may or may not identify their problems with a specific diagnosis. Many are highly intelligent and skilled employees who find it difficult to decipher the often nuanced social underpinnings that are part of daily life, on or off the job. Individuals with social challenges want to be appreciated for who they are and how they contribute (just like all of us do!), but often their good intentions aren't communicated in a way that others easily understand. As a result, it's often tough for these individuals to build the relationships and reputation necessary to excel in the workplace, regardless of their expertise or how hard they work. Adults with social learning challenges often need information about social emotional relationships broken down and explained in a way that can help them build skills and understanding, one step at a time. This book does just that - it is a constructive and detailed guide to help adults learn how to do the "social dance" in order to build stronger relationships at work and beyond. Remember, good intentions aren't good enough! Although the content is geared to the adult with social emotional challenges, this is a great source of information for people working in HR departments to better understand social challenges and how to guide and coach employees with these challenges. ... contains easily-accessible information about core concepts that describe how we think about our own and others' thoughts and emotions, actions and reactions, intentions and motives. In it you'll learn to become a stronger social observer and use strategies that increase your social competence. Chapters address: the social mind, social intelligence, and how social thinking is different from social skills ; the role of our emotions and social memory in office interactions ; the hidden rules or expectations and social memory in office interactions ; giving compliments, asking for help, and apologizing ; seven core tenets of perspective taking and understanding others' points of view ; exploring the social-emotional chain effect ; the four steps of communication ; indirect communication: reading between the lines ; fitting in: conformity teamwork and networking ; the office hierarchy, friendships, romantic relationships, bullying, and more. Attempting to interpret others' thoughts and emotions is as much a part of the workday as is doing our actual jobs. By learning to think socially we can change our behavior to directly affect how we are perceived and treated."--publisher's website.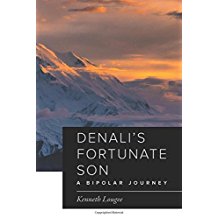 AI Reserve
618.928527
Lougee
Denali's fortunate son : a bipolar journey / Kenneth Lougee. FriesenPress, c2017.
Description: "Most professionals believe a Bipolar I diagnosis precludes the stress of a litigation lawyer. Set in the "Golden Heart" of Fairbanks, Alaska, the book is one of faith, hope, adventure and perseverance against the daunting challenges of mental illness. In this book, Kenneth Lougee negotiates the conflicts between his Bipolar I diagnosis, his son's autism, and his adventures practicing law on the Last Frontier. As his disorder progresses, Lougee raises four small children, meets colorful Alaskans, travels to the backwoods of the state, wins multimillion dollar cases and grows prize winning giant cabbages. The book is shows the determination that mental illness does not define a person. This memoir is a guide to younger lawyers who may suffer depression or other mental illnesses. Not only can they anticipate a professional life, they can if willing, have successful marriages, raise responsible children and gain the respect of the community. Additionally the book gives hope to parents of autistic children that even if one parent suffers mental illness, together parents can surmount the difficulties of raising that child. Alaskans call the mountain Denali meaning "the Great One." A grateful author is indeed "Denali's Fortunate Son.""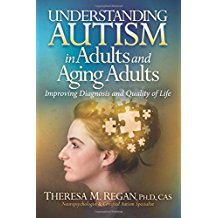 AI Reserve
616.85882
Regan
Understanding autism in adults and aging adults : improving diagnosis and quality of life / Theresa M. Regan, Ph.D., CAS, Neuropsychologist, Certified Autism Specialist. IndieGo Publishing LLC, [2017]
Description: "Autism is a childhood condition ... right? Not right. Children with autism grow into adults with autism. The great strides we have made in understanding childhood autistic behaviors and interventions have lagged dramatically behind the needs of aging autistics. What of the young adult trying to build relationships? What of the middle aged autistic adult who has been misdiagnosed with Bipolar Disorder and lacks an effective treatment plan? What of the aging adult who is showing increasingly rigid autistic behaviors and is misdiagnosed as having frontotemporal dementia? Understanding Autism in Adults and Aging Adults is a one-of-a-kind resource designed to improve the correct diagnosis of autism spectrum disorder in adults. Filled with clinical stories that bring to life the concepts discussed, the book provides strategy-based interventions to address issues of personal and household management, medical care, communication, sensory processing symptoms, and emotional and behavioral regulation."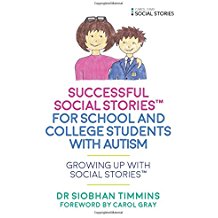 AI Reserve
362.716
Timmins
Successful social stories for school and college students with autism : growing up with social stories / Dr. Siobhan Timmins ; foreword by Carol Gray. Jessica Kingsley Publishers, 2017.
Description: "As children grow up and spend more and more time away from home in schools and colleges, life often seems to get increasingly complicated. Autism makes the challenges they meet in these new environments even more difficult to navigate. Social Stories™ is a highly regarded strategy that parents and teachers can use to help young people with autism understand the new social situations they face during this time. Writing an effective Story takes a special set of skills, and in this fully illustrated book Dr Siobhan Timmins explains how to acquire and hone these techniques and put them into practice. Following on from her book on writing Social Stories™ for young children, this book on the next age group up includes 160 illustrations and clear examples based on the author's own experiences of raising a son with autism. She explains how to identify the underlying issues, and articulate the key ideas so that young learners can find connections between Stories to build a greater understanding of relationships, the adult world and their own identity. The book is an invaluable guide to creating bridges between young people and the parts of life they find most difficult."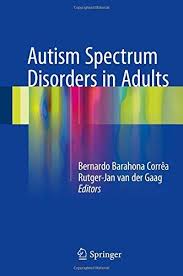 AI Reserve
616.8982
Autism
Autism spectrum disorders in adults / Bernardo Barahona Corrãea, Rutger-Jan van der Gaag, editors. Springer, [2017]
Description: "In this book a group of international experts guide the reader through the clinical features of adults with autism spectrum disorders, describe the care needs of patients and their families, explain the evolution of the disorders into old age, and highlight what can be done to help. Detailed attention is paid to the medical and psychiatric problems of adults with these disorders and the approach to their education and professional integration. In addition, expert neuroscientists summarize current views on the neurobiology of autism. Autism spectrum disorders are devastating neurodevelopmental disorders. Although diagnosis and therapeutic interventions usually take place in infancy, they are chronic lifelong conditions. Surprisingly, the literature on autism spectrum disorders in adults is scarce. Moreover, most mental health professionals working with adults have little training in autism, and adult mental health services around the world are rarely prepared to address the needs of these patients, which tend to increase with age. This book therefore fills a crucial gap in the literature and will prove useful for all who care for and deal with adults in the Autistic Spectrum."

AI Reserve
910.410092
Burge
Travelling on the autism spectrum / by Garry Burge. Garry Burge, [2017]
Description: "As an adult on the Autism Spectrum, Garry Burge has been fortunate to have travelled quite extensively overseas, as well as in Australia and New Zealand. Although travel may seem a distant possibility for many adults on the Autism Spectrum, Garry hopes that this book will provide encouragement, not only for them but also for travel providers, travel agents and other organisations."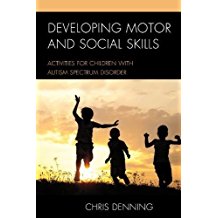 AI Reserve
371.904486
Denning
Developing motor and social skills : activities for children with autism spectrum disorder / Chris Denning. Rowman & Littlefield, [2017]
Description: "This book will outline what we now know about how physical activity impacts children with Autism and how classroom teachers can use physical activity programs in their classrooms."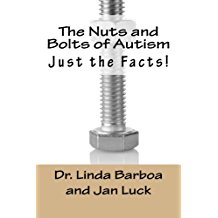 AI Reserve
616.8982
Barboa
The nuts and bolts of autism : just the facts! / Dr. Linda Barboa and Jan Luck. 2nd ed. KIP Educational Materials, c2017.
Description: " ... a quick, easy to navigate booklet, designed to answer the most frequently asked questions about autism. ... a no-frills approach to provide information in the most concise and convienient [sic] format. For readers seeking the basic facts, this highly-recommended booklet is a good place to start. Extended family members and community members, along with retail and service providers, will get a valuable introduction to autism through this booklet."--p. [4] of cover.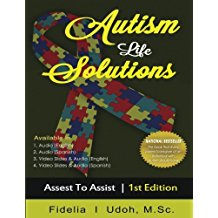 AI Reserve
616.85882
Udoh
Autism life solutions : experience based answers to parents [sic] frequently asked questions : suggestions to parents that can improve the life of their child with autism / [Fidelia I. Udoah, M.Sc.] 1st ed. [CreateSpace, 2017]
Description: "This book will provide you with absolutely everything you need to begin to help an individual with Autism, to become successful in Autism Behavior Management, Effective Functional Communication and Improvement in Social Interaction Skills. The following presentation will provide answers to most, if not all your most frequently asked questions regarding the methodical way to ensure success for individuals diagnosed with autism and how you can harness their strengths to improve their lives and overall wellbeing. So learn all you can, put it to practice, and start changing the life of an individual with autism right away." This book has a question and answer format. Topics include nutrition, food, physical activity, sleep, social skills, behavior and other parental concerns.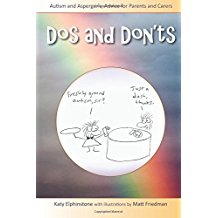 AI Reserve
649.151
Elphinstone
Dos and don'ts : Autism and Asperger's, advice for parents and carers / Katy Elphinstone, with illustrations by Matt Friedman. Wheatstone Bridge Publishing, c2017.
Description: " ... a practical, light-hearted and accessible book. The suggestions given are overall both readable and do-able, and besides being very helpful, will give the reader the pleasure of a smile or two along the way. It is illustrated throughout by the well-known cartoonist Matt Friedman (also the author of Dude, I'm an Aspie). Arranged as a basic list, the book is usefully indexed and covers a wide range of day-to-day problems which are commonly experienced by those who have Asperger's or autism in the family. All the suggestions are given from a deeply gentle and understanding perspective; both of the children themselves, and of the difficulties and doubts we all experience as parents. In all, the book is concerned with achieving more connection, understanding and growth on all sides (child, parent and society at large!)."--author's website.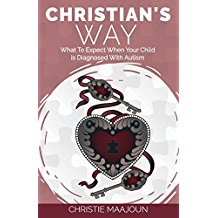 AI Reserve
649.151
Maajoun
Christian's way : what to expect when your child is diagnosed with autism / Christie Maajoun. [Ghost Publishing, 2017]
Description: "Your child is autistic. It's not the end of the world, but you have to educate yourself and act quickly. Buckle up; you're in for a bumpy ride. In Christians Way, Christie unashamedly shares her personal story. Once she suspected her son, Christian was different, and after getting the diagnosis, she shares with us how raising her precious special needs child changed her life. This book is designed to motivate and inspire families that have recently found out their child has autism or have been raising a child on the autism spectrum. Christie has graciously included some stories of other parents in similar situations, who share their insight and experiences. She has also included expert advice from medical professionals, and information about a special foundation that provides millions of dollars in aid to needy families. Most importantly, Christie hopes this book educates parents, so they don't waste time trying things that don't work or wait too long to seek help. Every wrong decision hurts your child and delays his or her development. Time is of the essence."--page [4] of cover.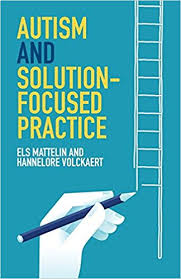 AI Reserve
616.85882
Mattelin
Autism and solution-focused practice / Els Mattelin and Hannelore Volckaert ; edited by Hannah Cook. Jessica Kingsley Publishers, 2017.
Description: "This trailblazing book equips practitioners to help clients with autism live well, using adaptable solution-focused methods. It shows how to approach autism in a positive, respectful way, and to understand clients' ways of thinking so you can effectively guide them to find their own solutions."--publisher's website.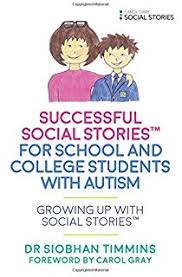 AI Reserve
618.9285882
Timmins
Developing resilience in young people with autism using social stories" / Dr Siobhan Timmins. Jessica Kingsley Publishers, 2017.
Description: "Social Stories™ are acknowledged as a very successful way of teaching concepts and social understanding to children with autism spectrum disorders, but considerable skill is needed to write the most effective story. This clear and engaging book introduces ways of thinking about the issues your child finds difficult, and includes 32 stories created by Dr Siobhan Timmins for her son during his early years, with helpful explanations of how she did it, and what the underlying thinking was behind each set of stories. She explains how the stories build upon each other to help the child to understand further, more complex topics, and how to see the connections so that you can best help your child. From basic skills such as learning to listen, wait and share, to common fears, this book takes the mystery out of creating effective Social Stories™ and amply demonstrates how to put together a cohesive set of stories which your child can understand and relate to."

AI Reserve
371.94
Beaney
Creating autism champions : autism awareness training for key stage 1 and 2 / Joy Beaney ; illustrations by Haitham Al-Ghani. Jessica Kingsley Publishers, 2017.
Description: " ... a ready-to-use resource for raising autism awareness and promoting inclusion in primary schools. Helping children and staff to become 'autism champions', it is easily adaptable and includes staff training, a whole-school assembly, lesson plans, photocopiable worksheets and online presentations."-- publisher's website.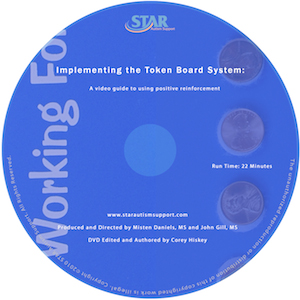 AI Reserve
AV
371.94
Implement
Implementing the token board system [videorecording (DVD)] / directed and produced by Misten Daniels and John Gill ; edited and authored by Corey Hiskey. STAR Autism Support, Ã2015.
Description: "... includes information on each of the following topics: how to get started with 1:1 reinforcement and transition to a token board system ; introducing the token board for the first time ; using the Intial, Intermediate and Advanced Level token boards ; ideas for teaching students the value of money ; creating and using a student store ; generalizing the token board system through the day by reinforcing daily routines."--Http://www.starautismprogram.com.
To be used in conjunction with the STAR program.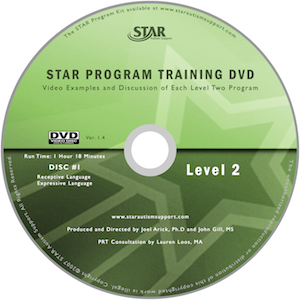 AI Reserve
AV
371.94
STAR
Level 2
STAR program training DVD [videorecording (DVD)] : Level 2 / directed and produced by Joel Arick and John Gill. STAR Autism Support, c2007.
Description: "Level 2 shows examples of the Level 2 programs from the STAR Program. There is an example lesson shown for each of the 54 Level 2 programs. The content of the Level 2 Lessons are a natural developmental progression from the STAR Level 1 Lessons. Lessons are taught using the techniques of discrete trial trianing, pivotal response training and teaching functional routines. The STAR Level 2 Lessons are in six content areas: expressive language, receptive language, spontaneous language, functional routines, pre-academic skills and play/social interaction skills"--Http://www.starautismprogram.com.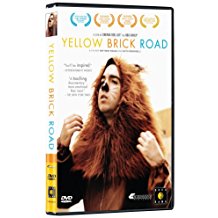 AI Reserve
AV
792.087
Yellow
Yellow brick road [videorecording (DVD)]/ a film by Matthew Makar and Keith Rondinelli ; produced by Matthew Makar ; [Elementary Films in association with Emerging Pictures]. New Video Group, c2006.
Description: Documentary following a group of actors with learning disabilities, from the Drama Program of Long Island's ANCHOR organization, as they embark on a four-month-long journey to mount a stage performance of film The wizard of Oz.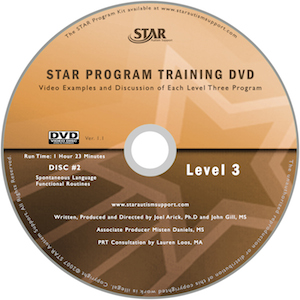 AI Reserve
AV
371.94
STAR
Level 3
STAR program training DVD [videorecording (DVD)] : Level 3 / written, produced and directed by Joel Arick and John Gill. STAR Autism Support, c2010.
Description: "The STAR Program Training DVD: Level 3 shows examples of how to teach students with autism using discrete trial training, pivotal response training and teaching functional routines. The content of the lessons are in the areas of receptive language, expressive language, spontaneous language, functional routines, preacademic concepts, play/social interaction skills. Learn the purpose and how to implement many of the 67 Level 3 STAR Program Lessons"--Http://www.starautismprogram.com.
AI Reserve
371.94
Superflex
Superflex superdecks [card games] : card games to promote superflexible social thinking ®. Social Thinking Publishing, ©2013.
12 large cards, 208 small cards in 4 decks : color illustrations ; in box, 24 cm. + 1 booklet.
Description: "... a companion teaching tool to the popular Superflex Curriculum, which helps parents and professionals teach children ages 8 - 11 about social thinking, social regulation, and social problem solving. We've included a game to play with each deck (and more games are available online), but the product was really created to be super-uper flexible, with uses limited only by your imagination and your own superflexible thinking. For instance: create games such as "Go Fish" with the cards to use with your students ; use the Thinkables cards to say "good job" when an Unthinkable has been defeated ; use an Unthinkable card as a visual reminder for a student to use his/her strategies when the clever, sneaky character is invading a student's brain ; pick an Unthinkable or Thinkable and have students use their Social Detective skills to play a version of "I Spy..." and look for that character showing up in themselves or others in the group, the classroom, or the school. ... not an introduction to Superflex, and should only be used with students who are already familiar with the concept of being a Social Detective (introduced in the book, You Are a Social Detective), and are either working through or have completed the Superflex Curriculum. The games and activities provided prompt players to think about the powers of the characters, brainstorm which Unthinkable might appear in a situation, match strategies to characters, or Thinkables and Unthinkables, and use their social thinking in other superflexible ways."--Social Thinking website.
"Geared to: 3rd - 5th graders with social communication/social learning challenges (Asperger's Syndrome/ASD, Social Communication (Pragmatic) Disorder, ADHD, etc.). Appropriate for all individuals who could benefit from learning about social thinking and social problem solving."--side of box. Ages 8-11.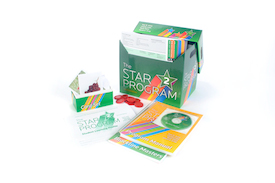 AI Reserve
371.94
STAR
Level 2
2nd ed
The STAR program Level 2 : strategies for teaching based on autism research / Joel R. Arick, Lauren Loos, Ruth Falco, David A. Krug. Pro-ed, [2015]
Contents: 1 program manual (xii, 276 pages : illustrations ; 28 cm), 1 book of blackline masters (154 pages ; 28 cm), 11 red poker chips, 192 flash cards (black and white and color), 54 printed folders, 5 student learning profiles booklets (15 pages ; 28 cm) ; 1 CD-ROM with blackline masters ; in container 30 x 31 x 21 cm
Description: The STAR program is a comprehensive behavioral program for young children with autism. The program was designed to give teachers many of the instructional plans and some of the materials needed to implement the program as part of the child's Individualized Family Service Plan (IFSP) or Individualized Education Program (IEP).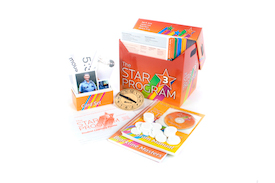 AI Reserve
371.94
STAR
Level 3
2nd ed
The STAR program Level 3 : strategies for teaching based on autism research / Joel R. Arick, Lauren Loos, Ruth Falco, David A. Krug. Pro-ed, 2015.
Contents: 1 program manual (xii, 276 pages : illustrations ; 28 cm), 1 book of blackline masters (130 pages ; 28 cm), 31 poker chips, 1 toy wood clock, 183 flash cards (color and black and white), 63 printed folders, 5 student learning profile booklets (21 pages ; 28 cm), 1 CD-ROM ; in container 30 x 31 x 21 cm
Description: The STAR program is a comprehensive behavioral program for young children with autism. The program was designed to give teachers many of the instructional plans and some of the materials needed to implement the program as part of the child's Individualized Family Service Plan (IFSP) or Individualized Education Program (IEP).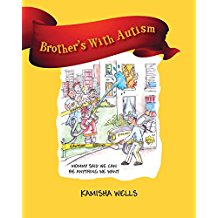 AI Reserve
JUV
Wells
Brother's with autism : Mommy said we can be anything we want / Kamisha Wells ; illustrated by Bobbi Switzer. Outskirts Press, [2017]
Description: "Dre and Eli has autism. Their brain works in a special way. It's harder for them to make friends. Both brothers enjoy playing dress up together. These are ways of thinking to help our children improve their own challenges"--Provided by publisher.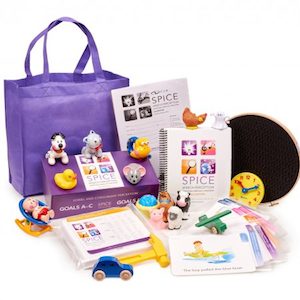 371.912
SPICE
2nd ed
SPICE [kit] : speech perception instructional curriculum and evaluation / [Jennifer Manley] 2nd ed. Central Institute for the Deaf, c2016.
Description: "Introducing the second edition of the "must have" auditory training curriculum, CID SPICE (Speech Perception Instructional Curriculum and Evaluation). SPICE is perfect for teachers of the deaf and SLPs looking for a curriculum for auditory skill development. It is designed to help you: evaluate a student's speech perception abilities ; plan auditory skills instruction ; measure and record student progress and ; report to parents and other professionals. From speech detection to suprasegmental perception, vowel and consonant perception and connected speech, SPICE includes skills and activities for beginning listeners and up. This long-awaited, newly revised edition includes additional, updated picture cards organized in a user-friendly box, updated and additional toys, a revised rating form with new goals and a new, easy to follow manual. The curriculum incorporates the best of what CID teachers have learned using the original SPICE in the classroom for 20+ years. New goals include perceiving voice and manner in words, perceiving morphemes in plural nouns and past tense verbs, imitating nonsense words and following directions. The kit contains everything you need to start laying the foundation for developing auditory skills with children aged 2-12 with cochlear implants and/or hearing aids."--publisher's website.